Brittany Griffins Dare To Dream
Friday, January 01 2016 @ 11:09 pm ACDT
Contributed by: Wesley Hull
Views: 2,473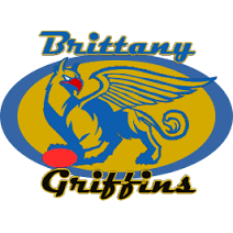 The French footy landscape has been constantly changing since the game started to take root back in the late 20th century and throughout last decade. Teams have come and gone on a fairly regular basis, yet many existing clubs have continued the journey and the hardships to become strong and provide the backbone of the league.
The Brittany Griffins are one of the newest footy incarnations in France. Whilst other infant clubs have either folded or are on hiatus, such as the Pau Bears, Nancy Bobcats and a Toulon based team, the Brittany club is looking to realise their own dreams and last the journey to becoming a major player one day.
Arnaud is, in his own words, the key forward, coach and president of the Brittany Griffins. A recent chat with Arnaud gave an insight into France's newest team.
"The idea started in March 2015 about the need to play footy in Brittany, a French region without any footy history. Why not, with Eurosport 2 Channel and internet, it is easier to know this sport in Brittany."
"Having only five players it is very strange for a sport association but it is not so bad because all are very interested to discover this sport from [which originates from] afar. The guys have an experience from rugby and they have researched something different in their home area. To get more players is difficult because we tried to attract by communication but without good results."
"The club is based in a village near a small town called Combourg which is between Rennes (Population: 200 000) and Saint-Malo (Population: 50000) on the French "West Coast" in Brittany. This village has a pitch just for our club. But why in this village? Because there is a free pitch with lights for the winter season which is something difficult to find when we are not from a football club such as soccer."
"The aims are to have a team of 12 players for the next year. We also aim to know this sport well, understand the rules better and to have fun for playing a nice game of footy in France. After this, we will try to play in the French National Championship. For the moment we will try to play in other French teams in order to obtain the techniques and learn the game."
"Here in Brittany, there are many clubs of Gaels, so we hope to exchange experiences and commence training with the two clubs in Aussie rules and GAA rules. Maybe we will play friendly matches in international rules in Brittany. It is something crazy for Brittany but we hope for this."
A place in the national CNFA league is still a considerable distance away, but led by Arnaud and his small but dedicated team the Brittany Griffins may yet serve their apprenticeship and become a team to fear. At least, that is what Arnaud and his team are dreaming.