Amsterdam To Host Second Champions League In 2016
Thursday, December 03 2015 @ 09:27 am ACDT
Contributed by: Wesley Hull
Views: 2,326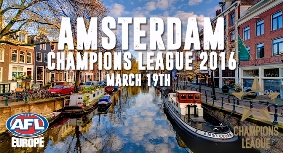 The second annual Champions League tournament will be held on March 19th next year, once again in Amsterdam and organised jointly by AFL Europe and the Amsterdam Devils club. The tournament goes into a second edition after the success of the inaugural event last year, in a competition which pits the premiership teams of European member nation leagues against each other to determine the best club, as opposed to nation, in Europe.
Last year the title was taken out by the West London Wildcats when they downed German team the Rheinland Lions. Ten clubs attended the event in 2015 with the others being the Belfast Redbacks (3rd), Amsterdam Devils (4th), Toulouse Hawks, Edinburgh Bloods, Malmo Redeyes, Solna Axemen, Manchester Mosquitoes and Zagreb Hawks.
The event is governed by certain rules regarding eligibility of players. This includes no more than four Australians on the field at any given time (passports used if necessary to determine this), but arranged mutually between clubs on an honour system. Players must have been registered to play during the 2016 season or have played for the club in 2015. The competition will follow the Euro Cup format and be nine players per side on field, with squads of up to 16.
The 2015 title holders, West London Wildcats, will gain an automatic invitation to the event, as will all national champion teams as outlined above. Should a club be unable to attend the event, the invitation for that league will be automatically offered to the runner up in that competition.
There will also be a women's competition. At this stage only the Wandsworth Demons women's team from AFL London has an invitation, but an invitation exists for nations to send a representative team for the event.
The teams/nations invited are:
Qualified Clubs (Men's):
CEAFL - Zagreb Hawks
HLAN - Zagreb Dockers
AFL London - North London Lions
AFL London - West London Wildcats (2015 Champions League Winner)
AFL CNE - Manchester Mozzies
CNFA - Paris Cockerels
AFLG 16's - Hamburg Dockers
ARFLI - South Dublin Swans
SARFL - Edinburgh Bloods
SAFF - Sodermalm AFC
DAFL - Copenhagen Giants
FAFL - Helsinki Heatseekers
WARFL - Cardiff Panthers
AFL Russia - Lazy Koalas
DAFA - Amsterdam Devils
Qualified Clubs (Womens):
WAFL London Wandsworth Demons
Due to the growth of Women's football throughout Europe we would like to extend the invitation to the national teams:
France
Croatia
Denmark
Finland
Ireland
Norway
Scotland
Sweden
Wales
Teams will have time to determine their availability and a final list of accepting clubs will be released closer to the tournament date.