Abu Dhabi Falcons Start Season In Style
Saturday, October 24 2015 @ 04:31 pm ACDT
Contributed by: Wesley Hull
Views: 1,219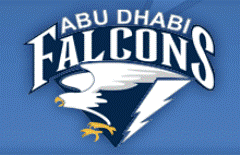 The new AFL Middle East season got under way yesterday with the Round One matches featuring the Abu Dhabi Falcons, B M Bulls, Dubai Dingoes and the Doha Kangaroos. Two weeks ago the Pre-Season Cup was played with the BM Bulls winning on the day.
After a big off-season developing skills and fitness for the new footy season, the Abu Dhabi Falcons have started their season in the best possible way. Last night the Falcons flexed their 2015/16 season muscles with a win over the Doha Kangaroos.
After a tough, hard fought match it was the Falcons 13 9 87 defeating the Kangaroos 12 2 74.
According to the Doha Kangaroos Facebook page, "Injuries to key players both before and during the game made it difficult for the Roos but that's not taking away anything from the performance of the greatly improved Falcons."
The Falcons finished last season lower down the ladder but with a much improved performance than their position indicated. Early indications are that the team has improved further for this season.
In the other Round One match, the BM Bulls from Dubai defeated the Dubai Dingoes in the first local derby of the year. Final scores saw the BM Bulls 16 11 107 defeat the Dubai Dingoes 12 7 79 in a fast and free flowing game. A measure of the Bulls' standing in the league in just their second season in the competition came from the Dubai Dingoes own Facebook page, stating "[it is] fair to say we can hold our heads up high [as we] stood toe to toe with the best team in the competition."
The next scheduled match is the Round Two clash on 30th October when the Dubai Dragons are scheduled to visit the Muscat Magpies, Oman.
The next assignment for the Bulls is the Grand Final replay against the Dragons on 13th November, whilst the Dubai Dingoes are drawn to host the Magpies. The following week sees the Falcons host the Bulls whilst the Kangaroos will host the Dingoes.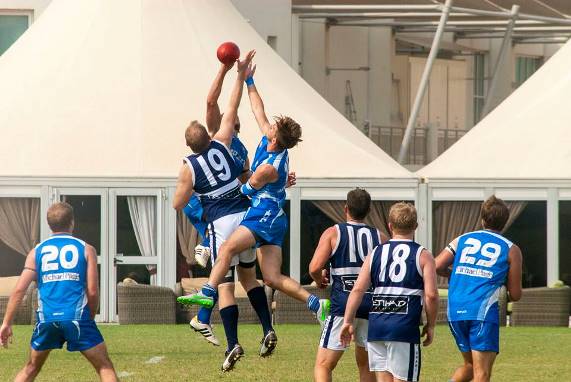 Picture: Action from the Falcons v Kangaroos clash in Doha.