Cairns Saints Empire Rises Higher
Sunday, September 27 2015 @ 10:57 pm ACST
Contributed by: Wesley Hull
Views: 979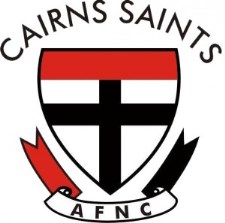 Footy in Far North Queensland is always a challenge, usually due to the beautiful winter climate, which whilst absolutely gorgeous for the local population and hordes of visitors can be taxing on the footballers racing about in mid to high twenty's temperatures.
But that meteorological explanation aside, it takes a remarkable team, in any language to build any football dynasty anywhere at any time. Which is why the performances of the Cairns Saints footy team is worthy of note, or more accurately, celebration.
Last weekend the Saints added yet another chapter to their incredible story of success, which is now beginning to rival the best of clubs anywhere in Australia. Their victory over the South Cairns Cutters on the big day – winning a tough contest by just nine points 14 12 96 to 13 9 87 – placed yet another flag to drape on any unused wall and another premiership cup in the glass cabinet. Problem is the club is fast running out of walls and any additions to the trophy cabinet have to be prised in with a crow bar.
Their victory over the Cutters was their "lucky" 13th, but all of those have come since their first just over 20 years ago in 1994, just a year after joining the competition. They have contested the grand final for the past nine successive years, winning seven of those and losing just to Port Douglas Crocs last year and to the Manunda Hawks in 2007 and 2011. Their reign has seen them take "three peats" of premierships on three occasions (1994-96, 1998-2000 and 2008-2010) and have also won three of the past four AFL Cairns premierships.
It is a record the envy of all other AFL Cairns teams. Their 13th flag takes them to the outright first place on the seniors premiership tally board ahead of the combined entities of Centrals/Aloomba-Centrals/Trinity Beach (12) and North Cairns (10). Not a bad effort from a club which gave the others the better part of a 30-35 year head start.
As if that wasn't enough, club legend Matt Walsh passed the remarkable 1000 goal milestone with his fourth goal against North Cairns. He joined a very special group of elite talented people across the country to reach such a milestone. By season's end his tally stood at 1046 goals since 2006. It is no coincidence that the Saint's era of greatness has been linked to, and indeed built around Walsh.
Other clubs across the country could rightfully produce evidence that their empires yielded more flags or were at the top for longer periods. But not many. The Cairns Saints have set a standard that will take a very long time to be equalled. They have raised the bar for excellence in Cairns, and in the long run that is great for Cairns footy. Like them of hate them, nothing can take away their success.
The Cairns Saints empire stands as a symbol of local footy greatness, and that isn't bad for a club which along the way has also lived with the threat of disbandment due to lack of money and sponsorship, so it hasn't all been plain sailing.
But is has been a wonderful journey.