McKenna Making His Mark
Tuesday, September 15 2015 @ 08:31 pm ACST
Contributed by: Wesley Hull
Views: 1,156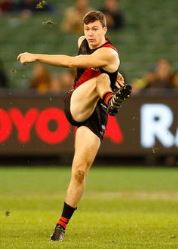 In a season many people at Essendon would rather forget, there were a few little gems here and there which lifted spirits and gave a pointer to a far better future. One of those was the initial form of young 19 year old Irish recruit, Conor McKenna. After being recruited late in 2015 as an international Category B Rookie, few had many high expectations regarding his debut season.
But the youngster got a taste of the "big league" back in the NAB Challenge matches pre-season. He had some touches, but is best remembered for his dual 50 metre penalty infringements which gifted St Kilda a goal. An inauspicious start, to be sure, but as his season progressed, so did his game sense, contribution and impact on his adopted game.
His VFL figures read well for just about any new player, much less a new recruit to the game. Across his 16 VFL games for Essendon he kicked 19 goals 13, which averaged two scoring shots per game. His 170 disposals across 16 games (just a shade over 10 disposals per match) was achieved at an efficiency rate of just under 70%. Along with his 48 marks (average three per game) he also made 26 tackles. On those figures it is understandable that Essendon saw a potential upside in an early promotion.
From there, McKenna was promoted to the senior Essendon AFL team for the Round 22 match against Richmond and rounded out the season in Round 23 against Collingwood in the team's win. Whilst he was subbed off during his first match, McKenna saw more match time in his second match. Once again his statistics bear some analysis, then comparison.
In his two senior matches, McKenna gathered 13 kicks and 9 handpasses for a total of 22 disposals. He also took 7 marks and laid 2 tackles and hit the scoreboard on five occasions to finish his season with 2 goals 3 behinds. Whilst some kicks were sheer luck, they all count.
Statistics do not tell a complete story. Not by a long way. But it is certainly interesting to look at his stats for his first two matches and compare them to other more notable Irishmen who have succeeded at our game.
The following is a list of players in more contemporary times, as well as a couple of Golden Oldies.
McKenna – Kicks 13 Handpasses 9 Marks 7 Tackles 2 Goals 2 Behinds 3
Marty Clarke (Collingwood) – K 24 H 15 M 11 T 4 Goals 3 Behinds 1
Pearce Hanley (Brisbane) – K 17 H 10 M 9 T 6 Goals 0 Behinds 0
Zach Tuohy (Carlton) – K 16 H 7 M 5 T 1 Goals 1 Behinds 1
And, from a different era when less of an immediate impact was expected:
Tadgh Kennelly (Sydney) – K 9 H 1 M 3 T 1 Goals 0 Behinds 1
Jim Stynes (Melbourne) – K 10 H 0 M 0 T 0 Goals 1 Behinds 1
These figures are almost too few to give a true indication of value, but if used as a pointer towards a blossoming career McKenna is on par with some players who have forged successful AFL careers.
It will be interesting to see how much further Conor McKenna advances next season and beyond, but it is certain that the Essendon hierarchy must be feeling pretty pleased with their Irish investment.
(Title picture - Pinterest)