Norway Grand Final – Oslo West v Ås Battlers
Saturday, August 29 2015 @ 11:24 pm ACST
Contributed by: Wesley Hull
Views: 1,194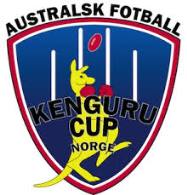 The final round of the Norwegian Australian Rules football competition, the Kenguru Cup, was completed last week with results going heavily in favour of the Oslo West team which secured their historic first Grand Final berth. After two years in last place, Oslo West won both games in the final round to take top spot – in the process recording the highest amount of wins in the competition's history with eight from ten games.
They will take on the second placed Ås Battlers which won its final match against Oslo East by a big margin after earlier going down to Oslo West by just one point.
This sets up a fascinating Grand Final, to be played at the Voldsløkka Rugby Field in Oslo on Thursday, September 3rd (Norway time) against the 2013 winners, the Ås Battlers, and the newcomers to the big day Oslo West.
The Oslo Crows website summed up the fortunes of the Oslo West team by stating that "from last place every year to first place on the table, a record point margin is simply impressive [from] the guys from the west edge."
The result, however, is far from decided. The Battlers got within a single point of upsetting West in the final round, suggesting that the flag will be won by the best team on the day rather than what has gone before throughout the other rounds of the Kenguru Cup.
Little has separated these two teams throughout the season, though West always managed to find that extra edge to take the points. In fact, the last two meetings between the teams have been decided by a total of just three points, highlighting how closely matched they are. The Battlers would have learned a great deal from the game and will enter the Grand Final with renewed belief.
Whatever happens, footy in Norway is sure to see a very exciting Grand Final in 2015, and a fitting end to another exciting season.