McKenna breaks through for Bombers debut
Wednesday, August 26 2015 @ 12:02 pm ACST
Contributed by: Troy Thompson
Views: 1,166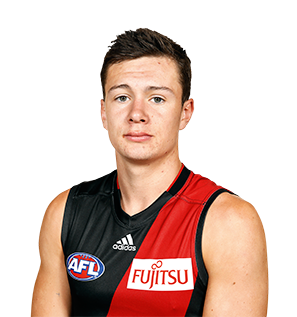 Essendon football club today announced that Irish code crosser Conor McKenna is upgraded from the rookie list to the senior list and will debut in the AFL this Saturday night at the MCG.
McKenna originally from Tyrone in Northern Ireland was drafted as an International Rookie last year after he was spotted by Essendon, who were one of two AFL clubs that attended the AFL's talent combine in Ireland in December 2013. He also was invited to the National Combine in Melbourne last year.
McKenna has been a lively forward for the Bombers this season kicking 18 goals from 15 matches in Essendon's VFL team.
McKenna is the second Irishman to cross from Gaelic football to Aussie rules to play at Essendon after Michael Quinn who played 8 games at his time with the club in 2009-10.
Conor McKenna 2015 VFL Stats
| Date | Opposition | BST | G | BHD | KE | KIE | HE | HIE | HR | CM | UM | MKS | TKS | FF | FA | HO |
| --- | --- | --- | --- | --- | --- | --- | --- | --- | --- | --- | --- | --- | --- | --- | --- | --- |
| Sun 26/Apr | Collingwood | 0 | 0 | 0 | 4 | 1 | 3 | 0 | 3 | 0 | 3 | 3 | 1 | 0 | 2 | 0 |
| Sun 3/May | Casey Scorpions | 0 | 0 | 1 | 0 | 3 | 3 | 3 | 1 | 0 | 4 | 4 | 2 | 0 | 1 | 0 |
| Sun 10/May | Coburg | 0 | 1 | 1 | 3 | 4 | 4 | 1 | 5 | 1 | 3 | 4 | 2 | 0 | 1 | 0 |
| Sat 16/May | Box Hill Hawks | 0 | 1 | 3 | 1 | 3 | 4 | 1 | 4 | 0 | 2 | 2 | 5 | 0 | 1 | 1 |
| Sat 23/May | Northern Blues | 0 | 0 | 2 | 1 | 2 | 3 | 0 | 4 | 0 | 1 | 1 | 1 | 0 | 2 | 0 |
| Sat 30/May | Richmond Tigers | 4 | 2 | 1 | 2 | 2 | 5 | 1 | 4 | 3 | 2 | 5 | 1 | 0 | 1 | 0 |
| Sat 6/Jun | Geelong Cats | 6 | 4 | 1 | 7 | 2 | 0 | 1 | 2 | 0 | 3 | 3 | 2 | 2 | 1 | 0 |
| Sat 27/Jun | Port Melbourne | 0 | 1 | 1 | 2 | 4 | 4 | 1 | 2 | 0 | 2 | 2 | 2 | 1 | 0 | 0 |
| Sat 4/Jul | Williamstown | 2 | 3 | 0 | 3 | 0 | 5 | 0 | 1 | 1 | 2 | 3 | 0 | 0 | 0 | 0 |
| Sat 18/Jul | North Ballarat | 0 | 0 | 1 | 4 | 1 | 6 | 3 | 4 | 0 | 1 | 1 | 2 | 0 | 2 | 0 |
| Sat 25/Jul | Geelong Cats | 0 | 1 | 1 | 4 | 4 | 3 | 0 | 4 | 2 | 1 | 3 | 2 | 2 | 2 | 0 |
| Sun 2/Aug | Footscray Bulldogs | 0 | 2 | 0 | 5 | 0 | 8 | 0 | 4 | 0 | 2 | 2 | 1 | 1 | 2 | 0 |
| Sun 9/Aug | Werribee Tigers | 0 | 1 | 0 | 2 | 0 | 1 | 1 | 0 | 0 | 2 | 2 | 0 | 0 | 0 | 0 |
| Sun 16/Aug | Frankston | 0 | 2 | 1 | 5 | 3 | 7 | 1 | 10 | 0 | 6 | 6 | 0 | 0 | 1 | 0 |
| Fri 21/Aug | Footscray Bulldogs | 0 | 0 | 0 | 4 | 3 | 9 | 0 | 5 | 0 | 4 | 4 | 3 | 1 | 3 | 0 |