South Dublin Swans Rattle Redback's Cage
Tuesday, August 25 2015 @ 10:08 pm ACST
Contributed by: Wesley Hull
Views: 1,127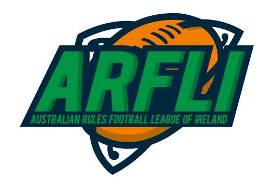 Just when everything in the ARFLI competition was going to script – all teams try hard but the undefeated Belfast Redbacks would cruise to premiership glory – the South Dublin Swans have come along and changed the landscape in two afternoons.
Not having bothered to read the script, the Swans got out to an early advantage against the Redbacks and held their nerve to pull away and set up a home final and a legitimate share of premiership favouritism. They followed this with a comprehensive semi-final win against the Galway Magpies
According to the ARFLI website, "Saturday last saw the Belfast Redbacks host the South Dublin Swans at the Cherryvale Sports Grounds adjacent to the Ulster rugby venue Ravenhill. The Redbacks have led the league all season and went into the final home and away game undefeated. In contrast the Swans have dropped points including losing at home to the Redbacks."
"However their recent form has been strong including thumping the Leeside Lions in Emly Co Tipperary in their most recent competitive game. The previous week the Redbacks showed their strength defeating the Galway Magpies in Galway."
"This promised to be a close tussle as both teams wanted to retain their momentum heading into finals. A win for the Swans would guarantee second spot on the ladder and a home semi-final, something the Redbacks already had in the bag as their top spot was confirmed before this game."
"It proved to be a very close encounter with the teams neck and neck for the first three quarters on a sunny Belfast summer's day. At three quarters time the Swans had a narrow five point lead. However in the final quarter the Swans pulled away to win 9.10 64 to 6.3 39."
Fast forward to the semi-finals and the Swans have continued to enhance their own premiership credentials and at the same time give the Belfast Redbacks just a small quiver of doubt.
The Belfast Redbacks 11.13 (79) defeated the Leeside Lions 6.4 (40) in a comfortable win and a useful tune up for the grand final next weekend. But at the same time, the South Dublin Swans 15.13 (103) ended the season for the Galway Magpies 9.10 (64). Both results were by 39 points, which is an intriguing coincidence which suggests that there is now a more even form line between the two teams that makes it a touch harder to predict.
Whilst the Belfast Redbacks still deserve favouritism based on their excellent season and first up finals win, the Swans appear to have closed the gap in recent weeks. They have certainly rattled the Redbacks' cage.
The Grand Final will be played at the Cherryvale Playing Fields, Ravenhill Road, Belfast next Saturday 29th August with the ball up at 3pm.