Belfast Redbacks Hard To Beat For Irish Flag
Thursday, August 13 2015 @ 06:25 pm ACST
Contributed by: Wesley Hull
Views: 1,302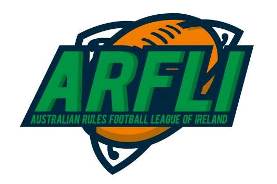 The 2015 ARFLI competition moves into its final round of matches before the finals series this weekend. Whilst the Belfast Redbacks have enjoyed a terrific season, undefeated after seven rounds, it is the battle for other finals places which holds greatest interest.
Currently, the Leeside Lions, South Dublin Swans and Galway Magpies are locked in a three way fight for second place and this final round will see all of those teams in action in a fight to the finish.
Fighting for a home semi-final berth on August 22nd, the Swans must take on the powerhouse Redbacks. A very tough task, especially as it is a road trip to Belfast's home ground. But the other game sees the Galway Magpies hosting the Leeside Lions with the winner likely to take second place and the home semi-final should the Swans lose to the Redbacks.
It makes for an exciting finish with a number of permutations possible. In a year which saw the Dublin Demons go into a self-imposed hiatus and the North Leinster Giants struggle to field a team on a match by match basis, it is almost remarkable that the remaining teams have been so evenly matched in ladder positions.
Whatever the results this weekend, however, the big prize is the premiership and to date the Belfast Redbacks have exerted a dominance over all other teams and it is difficult to see that changing. But footy is a funny game and grand finals come down to the best team on the day, so all likely finals-bound teams must still believe they have a show.
For the Redbacks, a chance to go back to back after winning the 2014 premiership would be a mighty challenge, and a mighty reward for the most powerful team of recent years. They also won the premiership in 2012, so victory this year would see three flags in four years. They were runners-up to the South Dublin Swans in 2013.
The 2015 ARFLI Grand-Final will be played on August 29th.