Brit Cup Action in Huddersfield 2015
Thursday, August 13 2015 @ 04:57 pm ACST
Contributed by: Wesley Hull
Views: 1,099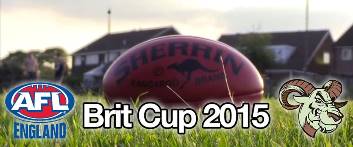 Now that most of the national Australian Rules football competitions across England have wound down, the Brit Cup fires up with the Huddersfield Rams hosting the event this weekend. Hosted last year by fellow AFLCNE team, the Tyne Tees Tigers, the event pits teams from across England in battle.
As once described by AFL England's website, the Brit Cup is "an annual tournament which only the British players from the UK clubs can compete in…the event has been held in a number of venues around the country and is a great chance for the regional clubs to level the playing field against their Aussie-rich London counterparts."
According to the AFL England website, "AFL England is delighted to announce that the Huddersfield Rams will be hosting the 2015 Brit Cup at the Huddersfield YMCA."
"The annual competition will be held on Saturday 15th August. Clubs from all across the UK are invited to attend the one-day competition with both Men's and Ladies divisions expected. Only British players are eligible for the tournament, which is played in a 9 or 12 a-side format."
So far the teams for the men's draw include the hosts, Huddersfield Rams, as well as the combined AFLCNE All Stars team. Travelling north for the event are the Southern Barbarians (comprised largely of southern England teams) and the team from London. The women's teams include the England & Scotland representitives team and the Kookaburras.
Last year the event was hosted by the Tyne Tees Tigers at their North Shields home ground in Newcastle Upon Tyne. It was won by the Nottingham Scorpions which also won back in 2011.
Past winners of the Brit Cup (and the host city) are:
2014 – Nottingham Scorpions – North Shields (Tyne Tees Tigers)
2013 - Midlands Sharks (Bears, Wolverines, University of Birmingham) – Birmingham
2012 – WARFL Red Devils – Reading
2011 – Nottingham Scorpions – Manton Colliery, Worksop (near Sheffield)
2010 – West London Wildcats – Southampton
2009 – West London Wildcats – Reading
2008 – West London Wildcats – Motspur Park, London
2007 – West London Wildcats – Barnes, West London
2006 – West London Wildcats – Reading
2005 – Wandsworth Demons – Nottingham
2004 – West London Wildcats – Bristol
2003 – West London Wildcats
2002 – West London Wildcats – Crawley RFC, Sussex
2001 – Wandsworth Demons – Downhills Park, London