Merseyside Takes To Field For First Time
Thursday, August 13 2015 @ 01:38 pm ACST
Contributed by: Wesley Hull
Views: 1,004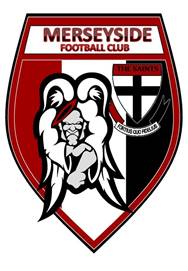 In a "massively successful game yesterday for all involved" the Merseyside Saints in Liverpool took to the field for the first time in a match against the Wolverhampton Wolverines last weekend. The match was played at the Saints' home ground at the Wirrell Rugby Club, south of the city of Liverpool across the River Mersey.
The match was a great opportunity for the Wolverhampton team to enjoy an end of season trip to Liverpool and have another competitive hitout – one that marks a new chapter in AFLCNE history. The match was a comprehensive margin in favour of the Wolverines, but the Merseyside Saints stated that "stuff like this [the match] will ensure our club survives and grows."
Final Scores:
Merseyside Saints 10 13 73
Wolverhampton Wolverines 23 21 159
On such an historic day for the Saints, the inaugural best player and goal kicking list recorded:
Goals - Jack Smith 3 goals, Josh Connolly 2 goals, Tom Turner 2 goals, Matthew Ringer 2 goals, James Mckenzie 1 goal.
Best on ground - Josh Connolly.
Some players may get a chance to play in this year's Brit Cup at Huddersfield this weekend, but the team will now prepare for their likely first tournament, setting their sights on the Movember Cup later this year.
But for the moment the club can finally claim to be a competitive reality and the players that took the field against the Wolverines can enjoy the fact that they are now part of the history of a new, and hopefully one day powerful, Australian Rules football club.
For more information on the origins and development of the Merseyside Saints club and the part they will one day potentially play in the AFLCNE, read the following World Footy News article titled
Merseyside Saints Continue Liverpool Legend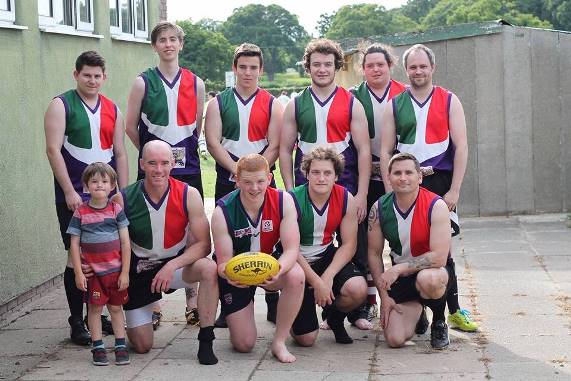 Left: The inaugural Merseyside Saints footy team