Women's Football Part of TIO NTFL Build Up for 2015/16
Wednesday, July 29 2015 @ 03:30 pm ACST
Contributed by: Wesley Hull
Views: 1,220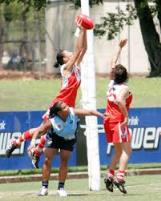 The following is a press release from the AFLNT looking at the increasing role and exponential growth of women's football across the Northern Territory. As the new season approaches and plans for 2015/16 are put into place, the AFLNT is looking more closely at how that growth can be built effectively and positively into future plans.
As Territory Football approaches its Centenary year, focus is turning towards the women who make the game great.
Australia wide, the role of women in football has changed dramatically from fans and loyal club volunteers to elite athletes, coaches and umpires in their own right.
AFL Northern Territory (AFLNT) has seen exponential growth in TIO NTFL women's football over the last few seasons, and to acknowledge this growth and successes AFLNT CEO Tony Frawley has pledged scholarships for women who wish to further their development in coaching, umpiring or administration of the game. 
"We've been proud of the success of our female programs particularly over the past few years and how they have been received in the community," Frawley said today.
"We've looked at various options internally around ensuring the needs of women in football are met, and we are confident by using a whole of organisation approach from game development, community football and of course talent, we are achieving this.
"By assigning funds to individual women who wish to further their development in their chosen field within football, we hope they become role models encouraging more women to be involved."
The four scholarships, worth $500 each come off the back of statistics which show more than 50 female football coaches from 426 active, accredited Northern Territory football coaches, three of which are level 2 coaches.
The NTFL Umpires Association also boasts a make up of 25% females, a talent depth that is visible through TIO NTFL Women's Round each season.
The scholarships have been allocated off the back of statistics presented at a recent AFL National Participation Conference which shows the Northern Territory takes out five of the top ten female players to population (per capita) spots.
West Arnhem, Barkly and East Arnhem take out the top three positions of female participation in Australia, while Darwin and Darwin rural come in fifth and sixth respectively.
The TIO NFTL itself will also expand this coming season with an additional women's division added to the mix.
Previously comprising of youth girls and senior women, the league will now encompass Under 15, Under 18 and seniors, with senior women to jump up the pecking order in regards to scheduling of senior games.
Discussions have also commenced around a women's Service to Football Award to be announced and presented at the 2016 Nichols Medal to recognise the important contribution and positive change women are making to the game.
Also in women's football:
Northern Territory to host the Under 18 Girls National Kickstart Championships from 21 – 25 September 2015
Under 18 Youth Girls to have a stand-alone team for the first time in 2016 (traditionally a joint team with Tasmania named the Thunder Devils)
Women's talent programs to continue throughout the offseason due to high demand and commitment of identified talented female players.