Goal Spree Weekend For AFLCNE – Round 7
Thursday, June 04 2015 @ 10:15 pm ACST
Contributed by: Wesley Hull
Views: 1,372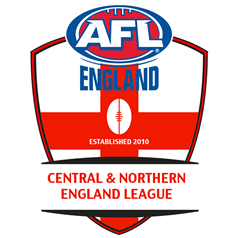 The Wolverhampton Wolverines have to be considered extremely unlucky to lose last weekend. It is not often that a team can kick a score of 24 21 (165) and still be beaten…by a mere 7 points to the undefeated Sheffield Thunder which kicked 25 22 (172). Whilst losing is never a palatable result at the best of times, the Wolverines will take heart that they pushed the league leaders to the limit and found 45 ways to score against them.
But the high scoring wasn't just confined to the Wolverhampton match. Up at Huddersfield the goal spree continued unabated.
The home team, Huddersfield Rams, scored their best win of the season with a 72 point victory against the Nottingham Scorpions. The result keeps the Rams in finals contention, but certainly places pressure on the Scorpions to fight for a finals berth. In another high scoring match, a combined 40 goals were kicked.
The other match at Huddersfield saw the Manchester Mozzies kick the highest score of the round in their 138 point romp against the Tyne Tees Tigers. Clearly intent on getting back on the winners list after their loss to Thunder last start, the Mozzies took no prisoners and showed little mercy.
Final Scores:
Sheffield Thunder 25 22 172 d Wolverhampton Wolverines 24 21 165
Huddersfield Rams 25 16 166 d Nottingham Scorpions 14 10 94
Manchester Mosquitoes 27 26 188 d Tyne Tees Tigers 6 14 50
Ladder:
(TBA)
Next Round:
Sheffield Thunder v Birmingham Bears (Sheffield)
Tyne Tees Tigers v Huddersfield Rams (Sheffield)
Nottingham Scorpions v Wolverhampton Wolverines (Nottingham)
Manchester Mosquitoes (BYE)