French Finalists Decided Amidst Final Round Carnage
Monday, June 01 2015 @ 10:29 am ACST
Contributed by: Wesley Hull
Views: 1,332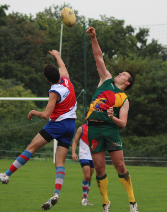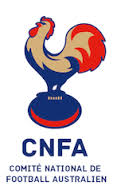 The four finalists to contest this season's CNFA finals series have been decided, but not before some teams decided to put fairly large exclamation marks next to their home and away season performances with some big wins.
Played over the past two weekends, the final four matches were played out, each having a potential impact of the final makeup of the top four. By the end the finalists were decided and will be played as follows:
Paris Cockerels v Cergy-Pontoise Coyotes – 13th June
Toulouse Hawks v Montpellier Firesharks – 13th June
The semi-finals both have a regional taste with the battle of Paris teams the Cockerels and the Coyotes from the satellite suburbs to the north-west of the French capital. Meanwhile, the battle of the south makes the other semi-final with the Toulouse Hawks hosting the Montpellier Firesharks. The respective winners will face each other in the grand-final on June 27th in Paris.
Results of the final four matches saw three blowouts and a hard fought, finals worthy match. The Cergy-Pontoise Coyotes emphatically booked their finals place with a big win over the Strasbourg Kangourous 26 24 180 to 5 5 35. The same weekend saw the battle for a finals place with a much improved ALFA Lions taking on the Montpellier Firesharks. After a close and hard fought tussle it was the Firesharks that held on to book finals action 14 22 106 to the Lions 8 16 64.
Last weekend the Paris Cockerels enhanced their premiership prospects with a final round pounding of the Bordeaux Bombers. Final score saw Paris 29 27 201 to Bordeaux 1 2 8. The Toulouse Hawks also had an emphatic win, keeping in contact with a premiership, when they defeated the Perpignan Tigers 30 28 208 to 8 7 55.
Early money might suggest that the Paris Cockerels, undefeated so far this year, are flag favourites. But Toulouse has sat with them all season and will want a chance to atone for their loss to the Cockerels earlier this year. At the same time, Montpellier and Cergy-Pontoise have nothing to lose and all to gain by throwing everything at the semi-final opponents to sneak a grand-final berth.
It is sure to be a fascinating finals series this month in France.