Catalonia Recognised As Nation By AFL Europe
Friday, March 20 2015 @ 04:18 pm ACDT
Contributed by: Wesley Hull
Views: 1,432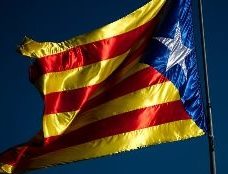 The following is a story written by Charles Miranda in Amsterdam for News Corp. It details the decision made by AFL Europe to recognise Catalonia as a nation in the lead up to this weekend's European Champions League tournament. The article appeared in today's Herald Sun in Melbourne at: http://www.heraldsun.com.au/sport/afl/australian-football-league-recognises-spanish-region-catalonia-as-a-country-in-european-competition/story-fni5ezdm-1227269879164
In essence, the story follows the line that the AFL, through the efforts of AFL Europe, have given the region of Catalonia in Spain an independence not granted them through politics or societal influence. It marks a fascinating event where sport has had a direct hand in perceptions of nationhood.
AFL recognises Spanish Region Catalonia as a country in European Competition.
In the scheme of global politics it's a pretty small thing.  
But the Australian Football League has done what three centuries of bloody wars and secessionist sentiment have failed to achieve and given nationhood status to the Spanish region of Catalonia.
And the move was threatening to turn into a diplomatic spat this weekend with the inaugural AFL Europe Champions League cup competition but was dodged at the 11th hour thanks to budget cuts.
Organisers of the championship series to be played in Amsterdam tomorrow had been fretting over the draw that sees the best clubs from each European nation play off against each other, including a potentially fiery clash between clubs from Spain and Catalonia.
But both Spanish teams announced they were pulling out on the basis of cost, so too the Welsh and half the Italian squad. A team from Russia was also forced to withdraw due to visa issues.
The AFL is the only sport in the world to recognise Catalonia as an independent State by controversially allowing it into the European League as a member country.
The Catalans were quietly given the status because they simply asked in 2010 when AFL Europe was formalised.
AFL Europe CEO Ben MacCormack agreed organisers may have dodged controversy yesterday over the decision made by a predecessor.
"Yes it's controversial, essentially it was an AFL Europe membership in the room decision, I'm not sure if AFL has ratified our decision but as a sport I think they are the only sport to have that recognition which is why the Catalans like the sport because they are given legitimacy," MacCormack said.
"It's been disappointing they couldn't come to the champions league … they get some money to travel for the Euro Cup but I think they are still in the midst of getting the Catalonian government to recognise it's an actual sport and if they understand that they would be excited to know they have a national team."
MacCormack said the two teams had played each other once last year.
"There was a lot of feeling absolutely, regardless of their skill level in football it was very emotional for both groups to play against each other," he said. "The fact they are running out there in their jumper and one doesn't recognise the other as a real group but the fact they are there playing each other makes them real is quite a unique watching experience. They all socialise afterwards with some discussion on politics but luckily I don't speak Spanish very well."
Ten teams will play it out tomorrow to be crowned best AFL club in Europe in a reduced nine-a-side format competition.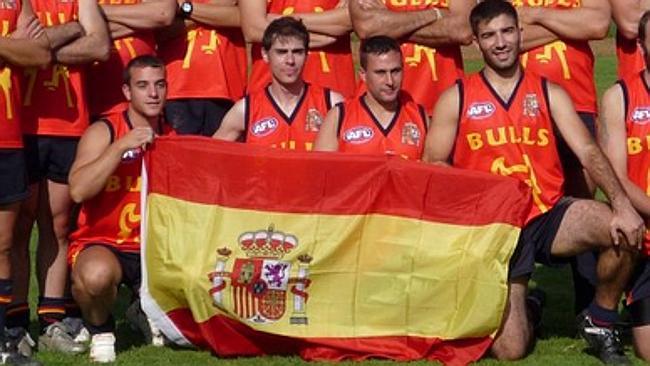 Picture: Spanish Bulls (Herald Sun)