Scotland pride for quartet at Coatbridge's Australian Rules Football team
Wednesday, February 18 2015 @ 08:52 am ACDT
Contributed by: Wesley Hull
Views: 1,715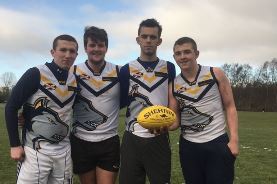 The following article featured in Scotland's Daily Record newspaper after initially being written for the Airdrie & Coatbridge Advertiser. It looks at a new dream for some young Scottish converts to Australian Rules football.
Danel Mossie discovered Australian Rules Football when he was channel-hopping one night.
Now he is dreaming of representing Scotland in the sport.
The 21-year-old from Sunnyside watched an AFL match when he couldn't get to sleep.
And after being impressed with the no-holds barred physical sport, he decided to see if there was a chance of playing it. 
(From Left: Daniel Mossey, Kyle Christie, Jack Tuffley, Ryan McGuigan)
Such has been his progress with the Coatbridge-based North Lanarkshire Wolves, Daniel last month received a Scotland call-up.
He joined fellow Wolves team-mates Kyle Christie, Jack Tuffley and Ryan McGuigan on national service.
It has been a whirlwind few months for Daniel who is a qualified football referee and the PA announcer at League Two Albion Rovers.
But he admitted the feeling of being involved in the Scotland set-up, after being told he was involved via email, was brilliant.
He said: "I felt I did really well. One of the main coaches came up to me and said he was happy with how I performed which was good to hear.
"There are a couple more training sessions to go and I'm hoping to be chosen for the first game against Spain in May.
"I thought we all did well and learned from just being there.
"Getting the chance to represent Scotland would be a major stepping stone.
"I first got into it when I was up one night because I couldn't sleep.
"I saw a match live on ESPN and just decided to watch it.
"I just got addicted to it. Fortunately, Nicholas McGuire started up a team called the North Lanarkshire Wolves.
"I told him I wanted to try the sport. There is a league in Scotland and hopefully it will be a good level to play at with the new season approaching fast."
Daniel reckons Australian Rules Football is growing in popularity and says the training with Scotland was the best he's ever experienced.
He added: "It's getting bigger up here. There are new teams joining and a lot of younger players.
"The training had a different tempo but that is because it is international level. It was quick and skillful.
"I love football but this training was better than any I've ever done."
The Scottish league season starts in May. Visit www.facebook.com/WolvesARFC for more details.