Bachar Has A View To The Future
Thursday, January 15 2015 @ 05:57 pm ACDT
Contributed by: Wesley Hull
Views: 1,998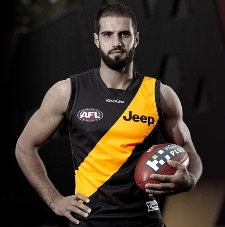 "Just give it [Australian Rules football] a go. Have a try, give it a taste and get a feel for the game."
Such is the overriding message that Bachar Houli, Richmond footballer and Multicultural Ambassador for the game, delivers to his charges wherever he is visiting. In his role as ambassador, or through his own Bachar Houli Academy or any of his other community involvements, Bachar is in a unique position to convert young people to our game.
In a chat today with Bachar it was clear that he is passionate about the game, and equally passionate about the opportunities the game can give to young people. "I say to the kids I work with, especially in the Islamic schools, that if you give it a go you will understand and grow the game. The kids give it a try, from soccer or rugby backgrounds, and see that they already have many of the skills needed to play. From there it's easy."
Bachar has seen enormous growth in the past three or four years since he began his academy and worked within schools and communities to grow the game. "Since I started the growth has been huge. Phenomenal. The kids in the schools want to give the game a go. When they are getting involved at a community level they get the most out if it [the game]."
He has been rapidly growing his network of education and development programs which are making an impact on the multicultural acceptance of the game. Through the Bachar Houli Academy he has created "a high performance football talent camp for emerging junior players aged 14-17 years, who are from an Islamic background. The Academy aims to develop the participant's leadership skills, fast-track their football development, and provide genuine pathways for them to pursue playing football at an elite level."
There is also the Cultural Diversity training which Bachar offers which "involves a presentation from Bachar Houli on his journey to AFL, as an Australian-Lebanese migrant. Houli's objective is to educate the broader community about the importance of providing an inclusive environment."
"During the presentation, Houli discusses the benefits of inclusion in sport, challenges, family and religion, and he has spoken about his unique story to at a number of schools and football clubs, including his own club, Richmond."
Additional to these ventures is the Bachar Houli Cup which "provides Islamic based schools and students an opportunity to participate in an AFL 9's competition." The competition continues to grow with competitions in Victoria, New South Wales and Western Australia. The combination of these programs is of enormous benefit to the development of the game amongst Islamic youth and a blueprint for future schemes across a host of multicultural communities nationally.
The conversation soon turned to whether the growth of multicultural acceptance of the game will link to the international development of the game.
"Yes." He said. "But I think initially the growth will be biggest closer to Australia, like New Zealand. The game is growing well there with Auskick clinics and the AFL matches being played there. But that is also spreading. When I was in Dubai I saw the same thing with Auskick clinics and the game growing."
When asked whether the development of the game in multicultural communities across Australia would lead to a quicker international uptake of the game, he said "yes, it is linked but it will be slow. We just have to keep growing the game. One day the game may be international, but that's a long way down the track. Until then it will still be a uniquely Australian game that is played more and more overseas."
For Bachar, the journey to reach the top in Australian Rules football has been a long one with many twists and turns. From the early days playing for Spotswood Under 12's without his parents knowledge (the irony was that it was the trophies he won which gave his secret away), to his captaincy of the Victorian Under 15 team, then selection to represent Victoria at both Under 16 and Under 18, Bachar has worked hard and excelled. His TAC Cup selection with the Western Jets, drafting to Essendon then move to Richmond where he now a club leader are a further extension of that hard work ethic ingrained in him. It is that same ethic which is leading to the success of his youth programs, and the transition of kids to follow their own paths.
Bachar is a committed person. He had bought together his faith, love of football, his family, community and culture to be an inspiration to so many. He has committed to a life whereby all of these elements are welded together, resulting in a successful personal journey, but also the blazing of paths for others to follow.
And this is all built around two simple premises. To "just give it a go", and "get involved and grow the game." I'm certainly in.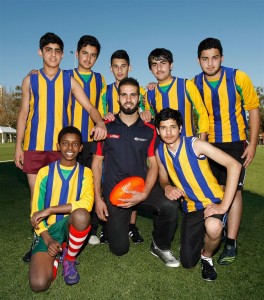 Left: Bachar with one of the teams ready for the Bachar Houli Cup