2015: An Exciting Time For AFL Middle East Season
Tuesday, December 30 2014 @ 10:07 pm ACDT
Contributed by: Wesley Hull
Views: 1,313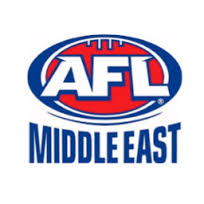 With the local Middle East competition enjoying its festive season break the opportunity to review the season to date presents itself. However, due to the postponement of the two games involving the Muscat Magpies, only four games have been completed to date. The scheduled nine games in 2015, as well as the two rescheduled Magpie games, will now hold the greatest clues to the season.
With that in mind, a very early guide to team's progress and chances has been put together ahead of the recommencement of matches on January 16th in both Abu Dhabi and Muscat.
Dubai Dragons - Started their season with an impressive 57 point win over last season's premiers, Doha Kangaroos, in Doha. This was an emphatic message that the Dragon's sought to exorcise their demons from last year. To drive home the point the Dragons then won the traditional local derby against the Dubai Dingoes by 26 points. After the break they play the Muscat Magpies, BM Bulls and Abu Dhabi Falcons. To lose any would be an upset of sorts, so the Dragons are well on the way to another grand-final, barring surprises.  
Doha Kangaroos – Started the season with a solid 25 point win over the new team, BM Bulls. This positive start was set back considerably when they went down heavily to the visiting Dubai Dragons.  Their run after the break includes the Falcons, Dingoes and Magpies. All are winnable, but they will need to if the wish to reach last season's dizzying heights. Sitting with a win and a loss still gives Doha Kangaroos a decent launching pad for a better 2015.
BM Bulls – The leagues newest team has enjoyed an historic win against the Falcons by 28 points. Their loss by 25 points to Kangaroos was a creditable defeat at the hands of last season's premiers, so could be seen as a positive, especially as they performed very well to reach the grand-final of the pre-season tournament. A busy 2015 as they tackle the Dragons, Magpies and Dingoes. To win two out of those three might be enough to see them reach the final in their first season pending other results, which would be a remarkable debut season.
Dubai Dingoes – One game for a 26 point loss to fellow Dubai rivals, the Dragons, is not enough evidence for a strong argument either way. Their scheduled match against the Muscat Magpies will be added to their 2015 workload as they play the Falcons and Kangaroos in January before a meeting with the Bulls in the final match before finals. Winnable games from here on in could see the Dingoes as a challenger, but their future will be clearer by January.
Abu Dhabi Falcons – In a story that is almost identical to the Dingoes, the Falcons have played just once for a 28 point loss to newcomers, the BM Bulls, and had their scheduled match against the Magpies postponed. Also too early to call, but their run home is tougher, having to play both of last year's grand-finalists in 2015. Not without a chance of finals action, but will have to play every match at their absolute best to do so.
Muscat Magpies – The team from Oman will have a very busy 2015, having to play all five teams. No form guide yet due to the postponement of both of the games to date. If things fall into place as planned their schedule is a tough one with matches against the Dragons, Bulls and Kangaroos being a tough ask as well as slotting in their missed games against the Dingoes and Falcons. Their job is not easy, yet optimists could point to the argument that five games in relatively quick succession could get them on a roll. Time will tell.
A betting person would most likely install the Dubai Dragons as early season premiership favourites. But with 11 matches to be played in 2015 there are just too many permutations for anything to be cut and dried. The remaining matches for 2015 will certainly be exciting as teams come back rested and start their runs to the finals.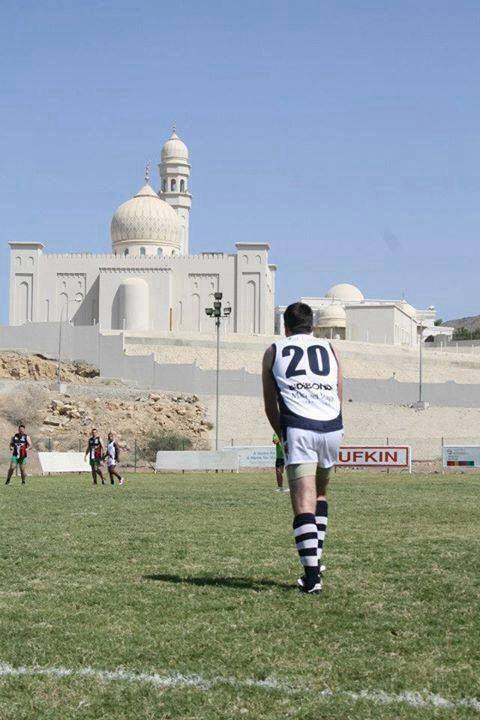 Left: Footy in the Middle East