Fiji take out 2014 AFL Oceania Youth Cup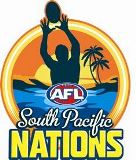 The 2014 AFL U/15 Oceania Cup Carnival in Suva, Fiji has wrapped up on Friday with the finals well contested.
AFL Pacific development officer Ben Drew summaries the day : We certainly witnessed some terrific, disciplined football today from all 4 finals side's. Tonga held off a determined Vanuatu team who pushed all the way to the last second! Both teams have been fantastic all week. Tonga held on for a narrow victory to finish 3rd. The Grand Final was certainly the best game we have had at the Oceania Cup! It was hard, tough and low scoring. The game was on the edge with both teams having their opportunities throughout. A couple of the Fiji players lost their discipline at times and were severely penalised. Time in possession was very even throughout the game. Read more In the end the Fiji tribe just held on to record the win in a very tight and exciting contest. It has been a tough week and I thank everyone for their efforts not only on the field but off it as well. To the 3 travelling teams Vanuatu, Tonga and Nauru thank you for your assistance around your accommodation, I know Milika at FNU can't speak any higher of all the boys! Also a big thank you to everyone that has chipped in and supported, organised and assisted in getting these boys to where they were today! For those that were unable to be their and watch, It was truly an amazing week of Pacific AFL football played at the highest standard.
Match Results: Friday 12th December
GRAND FINAL DAY
Game 11: Playoff for 3rd :
| | | | |
| --- | --- | --- | --- |
| Tonga Thunder | 3 | 6 | 24 |
| Vanuatu Volcano's | 2 | 4 | 16 |
Goal Kickers: Tonga:
Gregorio Wolfgramm 2, Taniela Loti
Vanuatu:
Kevin Naimak, Chris Willie
Best Players: Tonga:
Vaiola Kivalu, Taniela Loti, Mofuike Hafoka, Sione Sanft, Sosefa Finau
Vanuatu:
Mathias Tahi, Mark George, Meltes Miller, Serevy Seko, Daniel Tahi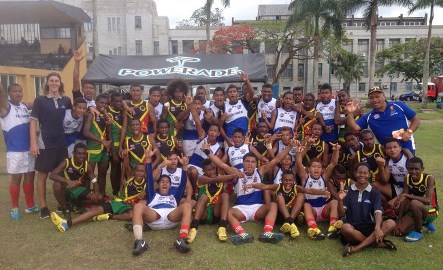 Game 12: GRAND FINAL :
| | | | |
| --- | --- | --- | --- |
| Fiji Tribe | 3 | 3 | 21 |
| Nauru Stars | 1 | 2 | 8 |
Goal Kickers: Fiji:
Joseph Magoh, Kiliopate Dan, Simione Kurovoli
Nauru:
Rockson Dageago
Best Players: Fiji:
Simione Kurovoli, Jone Baba, Apinisa Sailo, Macui Tuicaufia, Josua Modrau, Joseph Magoh, John Macdonald, Kalipate Dan
Nauru:
Rocky Demauna, Tuvae Botelanga, Kalumpa Tannang, Robert Temaki, Devine Agir, Enovy Tunfi, Jeremiah Kam, Lockett Mau, Ishmael Fritz, Macho Teabuge