2014 Oceania Youth Cup day 2 results

Day 2 of the 2014 AFL U/15 Oceania Cup Carnival in Suva, Fiji, witnessed the first matches of the main Oceania Cup tournament after Mondays lightning carnival.
The AFL's Ben Drew described the culmination of another terrific day of footy "And to finish the day with one of the best games of football between Nauru and Tonga to be played at the Oceania Cup in the 6 years we have been coming together was a fitting end to a great day."
The day also included the match up of Nakasi Cats taking on Suva Swans in Round 7 of the 2014 Vonu Challenge - played as an exhibition match for the Oceania Cup 2014 championship. Vanuatu Development officer, Nancy, (GO NANCY!!) joined along with a number of new local players. The Cats better in front of goals with 6.5(41) to Swans 2.9(21). Woman of the Match was Lini Drotini (Cats).
Match Results: Tuesday 9th December
Game 1:
| | | | |
| --- | --- | --- | --- |
| Fiji Tribe | 11 | 7 | 73 |
| Vanuatu Volcano's | 1 | 2 | 8 |
Goal Kickers: Fiji:
Rata Mua Cavuilati, Kaliopate Dan, Anasa Lecaui 2, Simione Kurovoli, Josua Modrau, Waisale Koto, Petaia Kilisama, Alifereti Bautarua
Vanuatu:
Ryan Bonga
Best Players: Fiji:
Simione Kuruvoli, Josua Modrau, Kaliopate Dan, Apenisa Sailo, Macio Kalou
Vanuatu:
McKendrick Seirangi, Ryan Bonga, Fred Iesul, Chris Willie, Chris Sope, Rickslie Abraham
Game 2:
| | | | |
| --- | --- | --- | --- |
| Nauru Stars | 5 | 8 | 38 |
| Pacific All Stars | 2 | 0 | 12 |
Goal Kickers: Nauru:
Sheik Doae 3, Zilman Gioura, Macho Teabuge
All Stars:
Tomasi Vuniacawa, Aliveveti Ratematecia
Best Players: Nauru:
Enovy Tungi, Kalumpa Tannang, Macho Teabuge, Darnell Dieme, Sheik Daoe, Aizia Doguape, Rockson Dageago, Yuan Smythe
All Stars:
Turudio Tuilevuka, Tomasi Vuniacawa, Jolame Bera, Nemani Bola, Namasa
Game 3:
| | | | |
| --- | --- | --- | --- |
| Fiji Tribe | 5 | 4 | 34 |
| Tonga Thunder | 3 | 1 | 19 |
Goal Kickers: Fiji:
Joseph Magoh 2, Kaliopate Dan, Alifereti Lui, Simione Kurovoli
Tonga:
Atonio Sekorin, Mofuike Hafoka, Kinania Palaiti
Best Players: Fiji:
Apenisa Sailo, Simione Kurovoli, Maciu Kalou, Kaliopate Dan, Kolinasi Degei
Tonga:
Maselino Naufahu, Mofuike Hafoka, Rully Steven Sulunga, Taniela Loti, Vaiola Kivalu Atonio Sekona
Game 4:
| | | | |
| --- | --- | --- | --- |
| Vanuatu Volcano's | 4 | 4 | 28 |
| Pacific All Stars | 1 | 5 | 11 |
Goal Kickers: Vanuatu:
Keith Andrew, Mark George, Lent Tevi
All Stars:
Turudio Tuilevuka
Best players: Vanuatu:
Lent Tevi, Mark George, Solomon Malcom, Fred Iesul, Keith Andrew, Rickslie Abraham, Chris Willie
All Stars:
Turudio Tuilevuka, Peni Tuwai, Akuila Gonerogo, Laisenia Buli, Tomasi Vuniacawa, Nemani Bola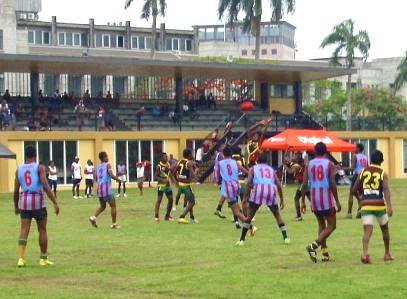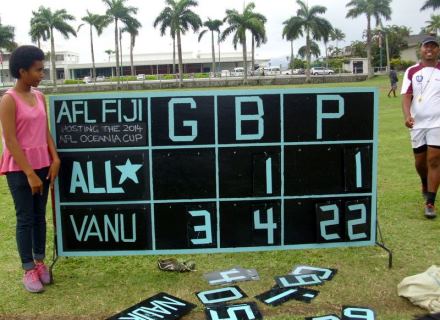 Game 5:
| | | | |
| --- | --- | --- | --- |
| Nauru Stars | 4 | 7 | 31 |
| Tonga Thunder | 4 | 3 | 27 |
Goal Kickers: Nauru:
Darnel Diema 4
Tonga:
Taniela Loti, Lakataha Leha, Gregor Wolfgramm, Mofuiki Hafoka
Best Players: Nauru:
Enovi Tungi, Darnel Diema, Felando Gaiyabu, Yuan Smythe, Kalumpa Tannang, Sheen Garoa, Sheik Daoe, Macho Teabuge
Tonga:
Steven Sulunga, Taniela Loti, Vaiola Kivalu, Mofuike Hafoka, Sione Sanft