2014 Oceania Youth Cup underway in Fiji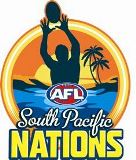 The 2014 AFL U/15 Oceania Youth Carnival got started on Monday with a Lightening Cup tournament held at Albert Park in Suva, Fiji. With national teams from host Fiji, Vanuatu, Tonga and Nauru as well as a composite Pacific All Stars side – the tournament was well contested and a good warm up for the main tournament matches to follow.
AFL Pacific Development officer Ben Drew described the opening day as a terrific day of footy. Each side bringing something of their own to the games - "Tonga were tough, Vanuatu were slick, Fiji were silky, Nauru were skillful and the Pacific All Stars fought hard all day"
Match Results: Monday 8th December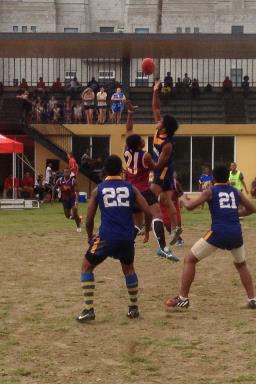 Game 1:
| | | | |
| --- | --- | --- | --- |
| Fiji Tribe | 2 | 4 | 16 |
| Vanuatu Volcano's | 0 | 0 | 0 |
Goal Kickers:
Fiji:
Simione Kurovoli, Josua Modrau
Vanuatu:
Nil
Best Players:
Fiji:
Simione Kuruvoli, Josua Modrau, Jone Baba, Iliesa Nakibo, Anasa Lecavi, Isimeli Lagicala, Rata Mua Cavuilati
Vanuatu:
Mark George, Semesa Roqara, McKendrick Seirangi, Daniel Tahi, Keven Niamak, Ryan Bonga
Game 2:
| | | | |
| --- | --- | --- | --- |
| Nauru Stars | 3 | 4 | 22 |
| Pacific All Stars | 0 | 2 | 2 |
Goal Kickers:
Nauru:
Kalumpa Tannang, Sheik Doae, Sheen Garoa
All Stars:
Nil
Best Players:
Nauru:
Enovy Tungi, Devine Agir, Kalumpa Tannang, Jeremiah Kam, Macho Teabuge, Fuvae Botelanga, Darnell Dieme
All Stars:
Tuxudio Tuilevuka, Alivereti Ratemateca, Josua Saukilaki, Siveli Cabebula, Laisenia Buli
Game 3:
| | | | |
| --- | --- | --- | --- |
| Fiji Tribe | 3 | 3 | 21 |
| Tonga Thunder | 0 | 0 | 0 |
Goal Kickers:
Fiji:
Rata Mua Cavuilati 2, Koliniasi Degei
Tonga:
Nil
Best Players:
Fiji:
Apenisa Sailo, Simione Kurovoli, Maciu Kalou, Jone Baba, Joseph Magoh,
Tonga:
Mofuike Hafoka, Rully Steven Sulunga, Kinania Dacaiti, Taniela Loti, Vaiola Kivalu
Game 4:
| | | | |
| --- | --- | --- | --- |
| Pacific All Stars | 2 | 2 | 14 |
| Vanuatu Volcano's | 2 | 1 | 13 |
Goal Kickers:
All Stars:
Tomasi Vuniyacawa, Josua Saukilaki
Vanuatu:
Kevin Naimak 2
Best players:
All Stars:
Alivereti Ratemateca, Josua Saukilaki, Nemani Bola, Asalli Tubega, Turudio Tuilevuka
Vanuatu:
Lent Tevi, Kevin Naimak, Meldes Miller, Shris Sope, Mathias Tahi, Serevy Seko
Game 5:
| | | | |
| --- | --- | --- | --- |
| Nauru Stars | 1 | 2 | 8 |
| Tonga Thunder | 0 | 0 | 0 |
Goal Kickers:
Nauru:
Sheik Daoe
Tonga:
Nil
Best Players:
Nauru:
Enovy Tungi, Lucky Ika, Kalumpa Tannang, Jeremiah Kam, Zillman Gioura, Devine Agir, Dacson Temaki
Tonga:
Maselino Naufahu, Vaiola Kivalu, Kinania Palati, Mofuike Hafoka, Sosefa Finau
Game 6:
| | | | |
| --- | --- | --- | --- |
| Vanuatu Volcano's | 2 | 4 | 16 |
| Tonga Thunder | 1 | 2 | 8 |
Goal Kickers:
Vanuatu:
Joseph Berangranreivi, Ryan Bonga
Tonga:
Mofuike Hafoka
Best players:
Vanuatu:
Fred Iesul, Rickslie Abraham, Ryan Bonga, Lent Tevi, Mark George
Tonga:
Siven Sulunga, Kinania Palatti, Maselino Naufahu, Sosefa Finau, Sione Sanft
Game 7
| | | | |
| --- | --- | --- | --- |
| Fiji Tribe | 3 | 2 | 20 |
| Pacific All Stars | 0 | 0 | 0 |
Goal Kickers:
Fiji:
Koliniasi Degei 3
All Stars:
Nil
Best Players:
Fiji:
Simione Kurovoli, Josua Modrau, Anasa Cecavi, Apenisa Sailo, Kaliopate Dan
All Stars:
Turudio Tuilevuka, Manasa, Akuila Gonerogo, Jolame Bera, Tomasi Vuniyacawa
Game 8
| | | | |
| --- | --- | --- | --- |
| Nauru Stars | 2 | 3 | 15 |
| Vanuatu Volcano's | 1 | 2 | 8 |
Goal Kickers:
Nauru:
Yuan Smythe, Sheik Daoe
Vanuatu:
Kevin Naimak
Best Players:
Nauru:
Macho Teabuge, Darnel Diema, Yuan Smythe, Sheik Daoe, Devine Agir, Felando Gaiyabu, Rockson Dageago
Vanuatu:
Kevin Naimak, Semesa Roqara, Solomon Malcom, Lent Tevi, Joseph Berangranrem, Ryan Bonga
Game 9
| | | | |
| --- | --- | --- | --- |
| Tonga Thunder | 2 | 2 | 14 |
| Pacific All Stars | 0 | 2 | 2 |
Goal Kickers:
Tonga:
Mofuiki Hafoka, Atonio Sekona
All Stars:
Nil
Best Players:
Tonga:
Mofuiki Hafoka, Taniala Loti, Kinania Palatti, Siosefa Finau, Vaiola Kivalu
All Stars:
Turudio Tuilevuka, Tomasi Vuniyacawa, Manasa, Nemani Bola
Game 10 & Lightening Cup Final
| | | | |
| --- | --- | --- | --- |
| Fiji Tribe | 2 | 6 | 18 |
| Nauru Stars | 1 | 0 | 6 |
Goal Kickers:
Fiji:
Apenisa Sailo, Simione Kurovoli
Nauru:
Aizia Doguape
Best Players:
Fiji:
Simione Kurovoli, Apenisa Sailo, Josua Modrau, Jone Baba, Anasa Lecavi
Nauru:
Aizia Doguape, Felando Gaiyabu, Darnel Diema, Lockett Mau, Enovy Tungi, Jeremiah Kam