Vanuatu Volcano's still after some help to get to Fiji


With the AFL Youth Oceania Cup just a week away - the Vanuatu Volcano's are set to re-appear with a full team. It's not cheap and not easy but each time a full squad is able to travel and represent their nation the pay off for the local game is huge with a new group of potential leaders - obviously the chance of making the Oceania and then South Pacific squads offers access to a talent pathway that leads to playing footy in Australia.
A fortnight back the Volcanos were raising funds running a car wash (at Wilco hardware). To help get them over the line - player sponsorships are available - anyone able to help can contact AFL Vanuatu via their facebook page or aflvanuatu@gmail.com.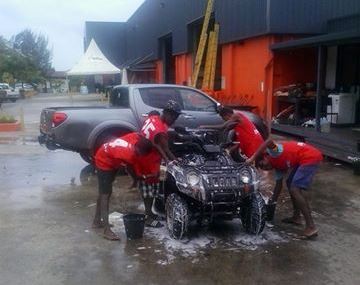 The Volcano's began with a 35 member training squad training for several months before trimming to a 22 member squad. Training included a session with Sydney Swan Kurt Tippett and former Swan Nick Davis who were in town for a Melbourne Cup function. Read more here.