American Footy Star dusted off for another run
Wednesday, November 26 2014 @ 09:45 am ACDT
Contributed by: Troy Thompson
Views: 2,553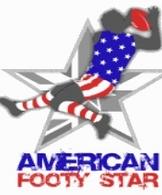 After launching the American Footy Star reality TV and footy conversion program for Americans in 2010 to much fanfare only to see the project shelved, it looks like the creator Miro Gladovic is dusting it off for another run.

The 2010 version came complete with a Hollywood launch party and signup details for camps across America in a reality TV format that would have an American chosen and brought to Australia attend the AFL Draft Camp and to be hopefully signed with an AFL club. That version came complete with a video of Andrew Demetriou giving his blessing to Gladovic.

Back in 2010, Geelong's Jimmy Bartel, Australian Institute of Sport coach Jason McCartney and Hawthorn legend Robert Dipierdomenico were tied to the project. But the American Footy Star camps never eventuated most likely due to the show not attracting interest from buyers willing to run the concept on TV in the US.

The AFL were already looking at US Combines at this time though, and Dave Matthews said at the time that this Combines would go ahead regardless of whether the TV show was picked up or not. In 2011 the AFL had trialled their US Draft Combine with Paul Roos being heavily involved. Gladovic is seems was not. The Sydney Swans signed American Alex Starling who never really had a chance to make the grade at the Swans primarily due to injuries.

In 2012 the AFL heralded the first of their US Combines in Los Angeles which ultimately produced Eric Wallace who is currently on North Melbourne's list as an International Rookie. In 2013 the camp again produced players Patrick Mitchell and Jason Holmes who both spent the 2014 season with AFL clubs Sydney and St Kilda. This year's US Combine saw Mason Cox signed by Collingwood.
Last night a flurry of tweets from Miro Gladovic went out to media outlets and personalities promoting that the American Footy Star concept was back and would "crash" the AFL draft which will be held tomorrow on the Gold Coast.

The "crashing" we assume is in the form of Gladovic's own camp that has put together a group of talented US athletes and put them through the usual series of testing. The footage of the testing and the impressive results would then show up the players actually drafted at the national draft causing club recruiters to the beat down his door to sign up the athletes.

All the while this is being documented in what Gladovic would hope to be a saleable TV product/web series. The first time this project came around it was met with plenty of skepticism, and this time around the will be more. We wish Miro the best of luck though in his endeavour to successfully transition these elite US athletes to the actually play in the AFL.

The American Footy Star press release follows.

AFS Class of 2014 to be revealed online, showcasing the future of cutting-edge athletic drafting on November 27, Thanksgiving Day
Los Angeles, CA November 25, 2014

American Footy Star (AFS) is gearing up to present its own class of the best and brightest young talent as available AFL player candidates ahead of the 2014 Australian Football League (AFL) Draft on Nov. 27 at http://www.americanfootystar.com. These top-choice candidates will be revealed on Thanksgiving Day in the USA for future recruitment consideration of the 18 AFL pro teams, such as the Collingwood Magpies, who have in recent years shown interest in American talent.

AFS is a pioneering, multi-faceted project designed to be a groundbreaking new international talent pathway between the U.S. and Australia. The project utilizes and accesses the abundance of American athletic talent to emerge from the world-famous National Collegiate Athletic Association (NCAA). AFS is also positioned as a groundbreaking new online sports agency spearheaded by footy sensation Miro Gladovic, which offers athletic scouting, management, and consultancy in the professional sports arena. Furthermore, AFS has been created to be a content provider for web and TV platforms, chronicling, and promoting the sporting challenges and journeys of its athletes via dramatic docu-series, and in turn also promoting its American athletes, as well as Australian Footy to the U.S. market, and internationally.

The AFS Class of 2014 will be launched online showcasing the draft candidates' incredible Footy performances, as well as game highlights on Nov. 27. The group of players features a mix of NFL and NCAA football players, including former New York Giants wide receiver and Superbowl champion Ramses Barden, and former Washington State / Pac-12 running back Carl Winston.

"I definitely believe there is a place for me in Australian Footy based on my athleticism, wide receiver skill sets, and my NFL experience," said Barden.

AFS was created and founded by Gladovic, an Australian sports agent and former Fédération Internationale de Football Association (FIFA) Players' Agent.

FOUNDER
AFS was created and founded by Australian sports agent Miro Gladovic. Miro was one of Australia's original "Jerry Maguire" sports agents, who became the youngest accredited FIFA Players' Agent in the world at the time of his accreditation in 1997.
Miro played a pivotal role in establishing Australia's successful and lucrative soccer talent pathway to the European soccer leagues such as the English Premier League, building and guiding the careers of some of the world's top soccer players.

AFS SPORTS AGENCY
AFS is creating a pioneering new sporting infrastructure, bridging the gap between different sports and connecting athletes with professional teams internationally. Starting Thanksgiving Day, AFS offers professional sports teams in Australia and internationally the opportunity to scout elite American athletic talent at the click of their mouse pad, half a world away. AFS also offers the opportunity for American athletes to upload their videos showcasing their talent and abilities. Plans are also underway to expand into other sports, including rugby and soccer, as well as sourcing future NFL players from Australia and internationally.

CONTENT AND MARKETING PROVIDER
AFS was originally conceived as an innovative new TV project, designed to promote Footy in the United States and internationally via an "American Idol" type of talent recruitment, searching for the first American athletes to go to Australia and crossover and conquer Australian Footy.
With the emergence of the inaugural Class of 2014 athletes, AFS has captured the entire cutting-edge process of recruiting its first American athletes who had never heard of Footy prior to being recruited by AFS on camera. This behind the scenes docu-series will reveal and showcase the compelling and inspirational process of the AFS Class of 2014 Footy converts.

Stay connected to American Footy Star and Sport Agent Miro Gladovic on Twitter @MiroGladovic, Instagram mirogladovic and Americanfootystar.