The importance of football stadia
Thursday, November 27 2014 @ 03:24 am ACDT
Contributed by: Harley Vague
Views: 1,694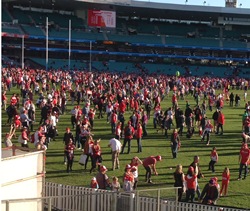 he Sydney Swans have just signed a 30 year deal to play all their home games at the SCG, the spiritual home of football in Sydney. That completes a cycle that has seen cricket and football re-unite at major stadia around Australia. Whilst organised football was still only played in English schools, football in the Australian and New Zealand colonies was played by communities.
There was a great synergy between cricket and the new evolving football. In fact it has been reported that football was invented to keep cricketers fit during winter. Cricket had already established community clubs. They had the grounds and the facilities whilst football provided the crowds and a major source of income. Together large stadia were built in the cities and throughout the lands. Playing in complimentary seasons it was an almost perfect relationship until with the booming popularity of both codes they thought they could do it better separately.
With the only way to underwrite large modern stadia by code-sharing, common sense has prevailed and we have seen major developments at shared grounds throughout Australia and the decommissioning of AFL grounds. This investment in infrastructure has been repaid handsomely in increased attendances . The Adelaide Oval being a spectacular example of that.

Overseas, it is very hard to find the space required to play a traditional game of 18-a-side and almost impossible to find any with facilities. Most Australian Football activities in the Northern Hemisphere occur on rectangular grounds. Increasingly that activity is on Rugby grounds using their facilities and sometimes with some of their more adventurous players. There is some synergy between the codes. In the Pacific, Australian Football is played in the off-season after the Rugby season and also by some of their players wanting to expand their skills.

There was an oval built in Florida which was initially met with great enthusiasm but was left to it's original intention as a cricket facility due to it's high ground fees. The Croatian league was well on the way to creating the first ground in Europe but was stymied at the last hurdle. It is trying to establish an alternative site. The AFL constructed a well-publicised oval in China but it has fallen into disrepair.

Australian Football is starting to be seen in more cricket playing countries – India, Pakistan and Sri Lanka. One wonders if that will help with football development. I also wonder where they play cricket in the Nederlands and why we don't see more Australian Football on English cricket grounds. It's probably the cost. One county more open to using their cricket grounds is the R.S.A. where a number of important ovals have hosted finals matches. Of course there is now major investment in N.Z., in schools and with AFL matches. Cricket is also the summer game in N.Z.

There have been numerous AFL exhibition matches that have sourced suitable arenas but usually requiring a reduction to 16-a-side. These matches were funded when sponsorship was much easier to come by due to intense competition between beer companies for their brand awareness.

Unfortunately the is no quick or easy solution to the problem of playing grounds; their associated cost and difficulty of procuring being the number one impediment to local AFCs. The corollary is that suitable playing grounds and stadia would provide a significant boost and promotion to football in general.