Freo recruit wants to be like Tadhg Kennelly
Friday, November 14 2014 @ 03:56 pm ACDT
Contributed by: Wesley Hull
Views: 1,444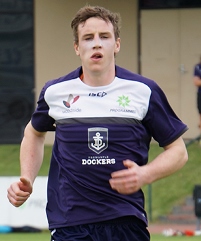 In a recent article by Alex Malcolm for afl.com, Fremantle Dockers' recruit, Sean Hurley, opens up about his desire to emulate the feats of another great Irish player of recent times, Tadhg Kennelly. Certainly Fremantle fans would be very happy if Hurley could achieve his dream.
FREMANTLE's Irish recruit Sean Hurley is hoping to emulate the feats of Tadhg Kennelly by winning an AFL premiership.
Hurley has signed with Fremantle, a year after trialling with the club. The 22-year-old Gaelic footballer from County Kildare arrived in Perth last Monday after signing with Fremantle as a rookie.
Hurley, a 193cm midfielder in the Gaelic game, trialled with the Dockers last pre-season but was not picked up. The club remained in touch with him and decided to sign him as a category B rookie for 2015. 
Hurley said Kennelly's exploits with the Sydney Swans were his inspiration to take on the Australian game.
"I've been in close touch with Tadhg Kennelly," Hurley said.
"Tadhg will be a big influence".
"I remember when I was a young lad looking at Tadhg Kennelly dancing on top of the stage after winning the Grand Final. That was on the news at nine o'clock so everyone in Ireland was watching that. If someone else could do something similar to that, it could give another boost to the sport."
Despite not securing a contract last year, Hurley stayed in close contact with the Fremantle coaching staff over the past 12 months while at home in Ireland.
The Dockers provided him with fitness programs, which included instructional videos so he could watch and follow the gym techniques closely.
He also trained at home with close friend Daniel Flynn who is on Port Adelaide's list.
Hurley said he had received some strange looks from Irish locals when he was out kicking an Australian football around.
"I remember one day I had Gaelic training and I went for a kick before Gaelic training and (the manager) came and kicked it into the hedge," Hurley said.
"He was only messing but it got kicked into the hedge. I had to get it after training. It wasn't allowed on the pitch."
Hurley was unsure what position he will play in Australia, saying he was just happy to train and absorb as much information as possible. He was yet to meet coach Ross Lyon but he did receive a call from the Dockers' mentor.
"I had a call from him yesterday and we're going to have a chat later on in the week," Hurley said.
"He's a lovely man and I'm looking forward to listening to what guidance he's going to give me."
Hurley will officially begin training with the Dockers' first-to-fourth-year players on November 17.