Portugal embraces footy again with Algarve 9's tournament
Tuesday, October 21 2014 @ 02:24 pm ACDT
Contributed by: Wesley Hull
Views: 2,377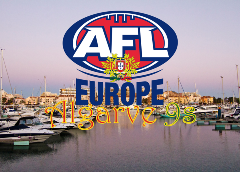 The second annual AFL Europe Algarve 9's tournament was again held in Vilamoura, Portugal, on the weekend. The Algarve is the region in the far south of Portugal, on the Atlantic Ocean, and is a tourism mecca with some stunning coastal scenery. It is also a new home for Australian Rules football after holding the 9's event for the past two years.
Last year's winners, The Flying Dutchmen, the Netherlands (DAFA) national team returned to the scene of last year's success hoping for back to back titles. But it wasn't to be. This year the team from Portugal took the honours.
Final score:
Kernahandles (Lisbon Dockers) 147 d Flying Dutchmen 52
According to David Valente, the president of Futebol Australiano em Portugal (and honorary Flying Dutchman for the day), "This year it was decided to split the Lisbon Dockers players amongst the other two teams, the Flying Dutchmen, who were present for the second time, and the Carlton/ Stephen Kernahan tribute team. The Kernahan lads, all wearing number 4, proved stronger, and won, and I would like to point out that Portuguese players João Barros, Miguel Valente and Marco Lisboa all had outstanding performances, which earned them the respect of the Aussie and Dutch players and even a few beers afterwards."
"Also, this event marked the official start of the collaboration between the Dockers and the "Novos Diamantes" association, which helps under-privileged kids from the northern suburbs of Lisbon, one of whom was taken along for a memorable day out, and ended up kicking the footy with some skill."
Whilst it is true that there were less teams involved this year (Last year saw the Oslo Crows attend along with the Lisbon Dockers and Flying Dutchmen) it is heartening to see that the event was held for a second year. It might be possible in future years for other more local teams, such as the Madrid Bulls or a second Portugese team, with Averio (to the north of Lisbon) winning an AFL Europe Start-up Club Program grant in 2013 to develop, becoming part of a larger event in Vilamoura.
These possibilities are certain to be explored by all parties over the next few months in preparation for a repeat event in 2015.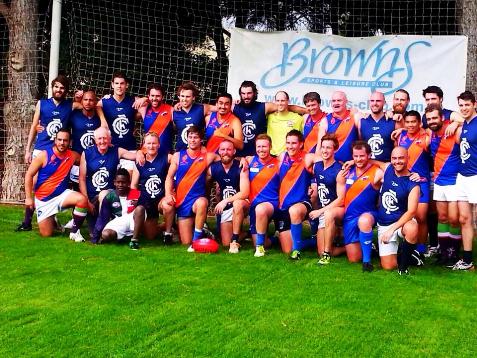 Left: Kernahandles (Lisbon Dockers) and Flying Dutchmen