Dublin City University - Another brick in the Irish footy wall
Tuesday, October 14 2014 @ 10:06 pm ACDT
Contributed by: Wesley Hull
Views: 2,318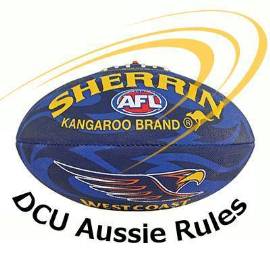 Myles Treanor from the Dublin City University (DCU) is the current club chairman and has put together the following information regarding the fledgling club from Ireland. DCU were the recipients of a Start-up Club Program grant (SCP) in 2014 which will kick along their progress as they compete on a broader scale and grow.
"[In] September 2014 aims we received a grant from AFL Europe over the summer with 6 balls. This was our first year of our own gear. We have used it regularly during trainings so far. DCU's sport staff are currently helping us design jerseys and fund further equipment."
Myles goes on to detail the origins and growth of the club.
"The club was founded in September 2013. Myles Treanor and Caoilte O' Baoill competed for Ireland in the Euro Cup 9's in Bordeaux. When we returned we set up the club in DCU with no funding or backing. It was made an official DCU club in September of this year."
"A 2013 review saw we had 18 girls & 32 boys training regularly. The equipment was borrowed from the Dublin Demons club. We competed in our first European tournament 'The Fitzpatrick Cup' in October 2013, the same day as the International Rules. Oxford University, University College Cork [UCC Bombers] and National Regional College [NRC Eagles] Ulster were competing. This happened to be the first European University tournament in history."
"[The] aim for 2013 was to get regular numbers at training and just compete in as many tournaments as we could. We continued mixed training sessions and started planning another tournament in February where it would be mixed."
"Matches against Irish clubs [include] in November 2013 we played the Dublin Demons and North Leinster Giants. We narrowly lost to the Demons, who are Ireland's most experienced club. "
"[We also played in the] O' Hara Cup where the Wandsworth Demons of London, North Leinster Giants, South Dublin Swans, Dublin Demons and DCU were competing. This tournament was mixed with at least four girls on each team competing. The tackling was modified for the girls but otherwise it was full on. We eventually made our way to the final losing out by four goals to an experienced Wandsworth Demons' club."
"The girls' team continued to train in DCU into April and combined with the Irish Banshees squad in preparation for the World Cup in Australia that summer. The squad narrowly lost out in the final."
"We aim to compete in the Fitzpatrick Cup again this year along with the O' Hara Cup. We also aim to hold a tournament this year. UCC Bombers are fixed to play us several times this year along with other Irish clubs."
It is still only early days for the DCU team, but already they are taking huge steps to play local tournaments, not only against other university teams, but also against established Australian Rules clubs from both Ireland and England. Again, the grant, combined with resources from the university, has assisted in getting the club to where it is today.
It will be interesting to see where the next twelve months will take the teams from Dublin City University.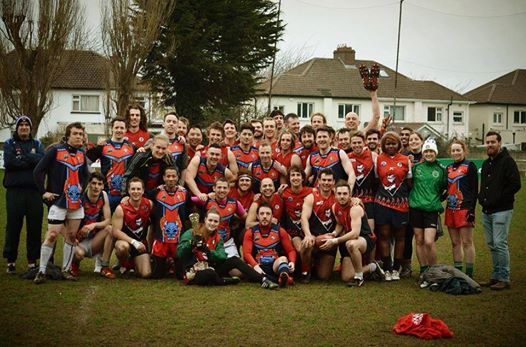 Left: The gang's all here - Dublin City University family