Odense Lions – Purring with the aid of a grant (or two?)
Monday, October 13 2014 @ 11:34 pm ACDT
Contributed by: Wesley Hull
Views: 1,727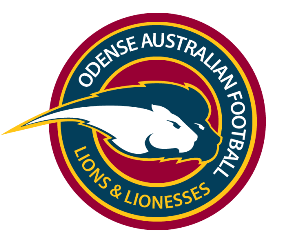 "It might not be the biggest of grants, but it was so important when we were only nine guys running around talking about making Odense Lions into a big club. We don't use the footballs we got anymore (we got new real Sherrins now) and we will replace the jumpers next year with new ones. So we are moving on from the first start grant we got, but even that small grant was very important for us. We would have had a hard time without it. It can seem little now with 35 players and two teams (male and female) but it was so important back then."
These are the words of the Odense Lions and their gratitude for the Start-Up Club Program grant from AFL Europe. Whilst the grant may seem small compared to the resources that might follow, Odense have succinctly summed up the value of the grant, and this is echoed by other clubs across Europe.
Since the early days when the grant helped kick-start the Lions, their adventure has been a success story for Australian Rules football in Europe, and particularly their home nation, Denmark.
"We have had so many great things to happen. We now have the first women's team in Denmark who participated in the Euro Cup 2014 under the name of theDanish Valkyries. All except two players were from Odense Lions. We won against the Copenhagen Baracudas in the DAFL and a victory that gave Copenhagen Barracudas the first wooden spoon in their club's history.
"We have found sponsors to get new jumpers made with our own design for 2015. We have played an international friendly against the Amsterdam Devils: the first footy trip for the lions. We have had training sessions with local schools and gymnasiums. We are having a season closer game against Hamburg Dockers on the 18th of October and the girls are having a season closer on the 25th of October against Malmø Ladies."
"The development in girl's football has also made us change the logo so we could have both Lions and Lionesses in the club logo. Also we are really looking forward to 2015 with new jumpers and hopefully some players, both male and female, who will come out stronger and better."
"As a young club we had to buy goal posts. We got the cheapest we could find and that worked for 2013 when we held the Danish Open 9-aside tournament, and for all of the activities in 2014. But the poor quality of the post has shown and two of them have snapped and all of them will need to be replaced for the 2015 DAFL season. We will therefore apply for the AFL Europe Goal Post Grant (GPG) to get some financial help in our mission to get posts for 2015."
The story of the Odense Lions – and Lionesses – is inspiring and shows the value of how the grants can be combined with a drive to succeed and produce something very special. We wish the Odense crew continued success and will continue to watch their progress with great interest.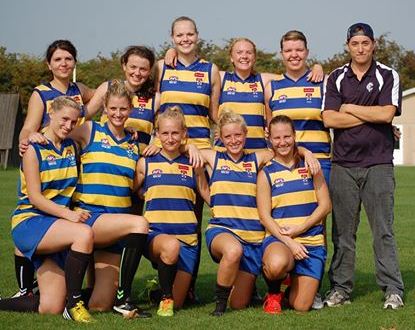 Left - The Odense Lionesses
.