Essendon Football Club embracing India
Monday, October 06 2014 @ 12:29 am ACDT
Contributed by: Wesley Hull
Views: 2,547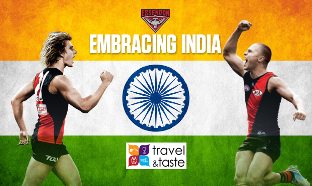 Earlier in 2014 the Essendon club undertook their latest multicultural program, Embracing India. Within Australia the program was designed largely to develop and grow a working relationship with Melbourne's growing and vibrant Indian communities, particularly in the north-west region which is Essendon's heartland.
Amongst a host of other community projects, which can be seen by going to the Essendon website - http://www.essendonfc.com.au/community/multicultural-programs/embracing-india - the club has sent a group of players and staff to India. The following story from the Essendon website tells of the focus of the trip and an outline of projects to be undertaken.
Embracing India: October 5-15
As part of the club's multicultural program and in partnership with the club's official tour provider Travel and Taste, Joe Daniher, Dyson Heppell, Zach Merrett and David Zaharakis will spend ten days travelling and embracing all that India has to offer.
Essendon has emerged as the AFL club of choice for Melbourne's Indian community, and to show its dedication to building strong and sustainable relationships, the club has taken the proactive step of sending its young leaders to immerse themselves in India's rich and diverse culture.
A key feature of the trip will see the travelling party visit the SOS Children's Village in New Delhi. The village hosts children from all over the region who can no longer be supported by their families due to disadvantage. They will also spend time working with AFL India in the country's north-eastern city of Kolkata.
Heppell said he was looking forward to introducing Indian boys and girls to the game of Australian Rules Football.
"I think the trip to India is going to be a beauty," Heppell said.
"As a club we've been doing a lot of work with the Indian community, the kids and the parents certainly love their footy and are passionate about Essendon so I think it's important to learn more about their culture and history."
To read the rest of this article on the Essendon Football Club website, click on the following link:
http://www.essendonfc.com.au/news/2014-09-22/embracing-india-october-515