2014 Axios Euro Cup Men's Draw
Tuesday, September 30 2014 @ 07:09 am ACST
Contributed by: Wesley Hull
Views: 1,535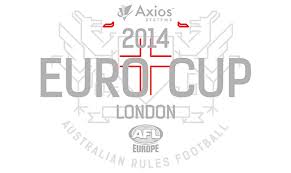 The full draw for this weekend's Axios Euro Cup was released earlier this week. The men's draw features 16 nations for 2014, separated into four groups. 
The Prince Charles Group will feature: Italy, France Germany and the Netherlands
The Winston Churchill Group will feature: Ireland, Scotland, Sweden and Norway
The Captain Cook Group will feature: England, Crusaders, Spain and Wales
The Adam Goodes Group will feature: Croatia, Catalunya, Denmark and Austria
The event will be held at the London Irish Rugby Club. matches will kick off at 9.00am, with the grand final scheduled for a 6.00pm start.
(See next page for full draw)
 The teams will be competing for the Euro Cup, the Euro Bowl and the Euro Plate, as well as the wwomen's championship (full draw yet to be released). Last year in Bordeaux, France, England took out the Euro Cup, ddefeating France in the final. Ireland won the Euro Bowl, while Austria took home the Euro Plate.
World Footy News will post an article for the official women's draw as released by AFL Europe in a separate article.
Below is the men's draw for the event.