Dynasties, Cycles and Golden Eras
Saturday, September 27 2014 @ 09:19 pm ACST
Contributed by: Wesley Hull
Views: 2,029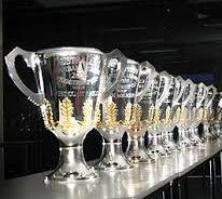 Watching the 2014 AFL Grand Final was an absolute treat. Whilst the result was lopsided with Hawthorn giving Sydney a hiding, it was a pleasure to be watching two of the three clubs who have enjoyed great success in recent years. It is debatable whether these two teams, and Geelong, are in the eye of a great era or dynasty, but we are all very privileged to watch.
For the record, Hawthorn's win today sees them with an impressive sequence of four grand finals for three premierships in seven years (2008-2014). That must be something special. Sydney is also in a run of 4 grand finals for two premierships in ten years (2005-2014).
Sitting alongside these two current leviathans are Geelong with four grand finals for three premierships over five years (2007-2011).
These clubs have won an amazing 8 premierships between them in 10 years (2005-2014), only interrupted by cameos from Collingwood (2010) and West Coast (2006). Prior to that, the Brisbane Lions era from 2001-2004 claimed four grand finals and three premierships.
 So, where do these recent performances sit on a grander scale of VFL/AFL historyω Also, what constitutes a dynastyω What is a golden eraω And what would be classed as a premiership to highlight a cycle of improvementω
The following list attempts to show the best eras in the game's history.
Hawthorn (1983-1991) – regarded as a dynasty overseen by Allan Jeans and Alan Joyce, this group played in eight grand finals over nine years for an amazing five premierships (83, 86, 88, 89, 91). This era featured some of the game's greatest players in Matthews, Tuck, Ayres, Dunstall, Brereton and more.
Melbourne (1954-1960) - The Norm Smith driven Demons of this era contested seven consecutive grand finals for five premierships (55, 56, 57, 59, 60), losing to Collingwood in 1958. This amazing group featured famous names like Barassi, Mithen, Spencer, Beckwith, Dixon and a stellar cast of stars.
Collingwood (1925-1930) – Still the measuring stick for all clubs due to the four consecutive premierships from 1927-30 (still the VFL/AFL record), this team contested six consecutive grand finals, being runners-up in 1925 and 1926. The era featured legendary names such as the Coventry brothers (Gordon and Syd) the Collier brothers (Harry and Albert – both Brownlow Medallists), Bruce Andrew, Harold Rumney and many more.
Essendon (1941-1951) – Under the respected guidance of club legend Dick "King Richard" Reynolds, the Bombers contested an amazing nine grand finals in eleven years (including two in 1948 after the famous drawn grand final with Melbourne) for four premierships (42, 46, 49, 50). This era featured legendary names such as Hutchison, Coleman, Reynolds, McClure, McDonald and a cast of wonderful players.
Fitzroy (1898 – 1906) – The first genuine "golden era" of the VFL, this Fitzroy team played in seven grand finals in a nine year period which yielded four premierships (1898, 99, 1904, 05). The era featured some of the greatest early players including Brosnan, McSpeerin, Trotter, Grace and Sloan (the VFL/AFL's first ever premiership captain).
Richmond (1967-1974) – The Tigers "ate 'em alive" over this era winning four premierships over an eight year period from five grand finals. It was the era of club and VFL/AFL legend Tom Hafey as he coached the club to great success. The era also featured some of the games greats including Hart, Bartlett, Sheedy, Clay, Barrot and Stewart amongst a host of phenomenal talent.
The above list sits at the top of a list which might loosely be termed as "dynasties" with all clubs winning four of more flags. The following list shows the "golden eras" which yielded three flags.
Carlton (1906 – 1910) - 3 consecutive premierships from 5 consecutive grand finals (1906,1907,1908)
Hawthorn (2008-2014) – 3 premierships from 4 grand finals in 7 years (2008, 2013, 2014)
Carlton (1968 – 1973) - 3 premierships from 5 grand finals  in 6 years (1968,1970,1972)
Brisbane (2001 – 2004) - 3 (cons) premierships from 4 (cons) grand finals  (2001,2002,2003)
Melbourne (1939 – 1941), 3 (cons) premierships from 3 (cons) grand finals (1939,1940,1941)
Carlton (1979 – 1982) - 3 premierships from 4 consecutive grand finals (1979,1981,1982)
Sydney's current effort sits just outside the above lists, and could be argued to be two cycles (2005-6) and (2012-14). They are joined by other clubs that won two flags within successful eras, with their cycles peaking as follows: Richmond (1927-34) with flags in 1932 and 1934, Collingwood (1935-39) with flags in 1935 and 36, North Melbourne (1974-78) with flags in 1975 and 1977, Collingwood (1915-22) with flags in 1917 and 1919 and Collingwood again from (1952-60) with flags in 1953 and 1958.
Whilst this article looks very much at the successes in the AFL, it would also make an interesting exercise for anyone to analyse their own local competitions. Port Melbourne in the VFA had a dynasty of their own through the 1970's and 1980's. Currently, the Manchester Mosquitoes in the AFLCNE in England are enjoying a golden era of success.  The Toulouse Hawks in France are embarking on their own golden era with back to back flags. The idea is worth looking at across any competition.
But for now I am content to enjoy the unfinished areas of Hawthorn, Sydney and still, possibly, Geelong as they see what 2015 can bring.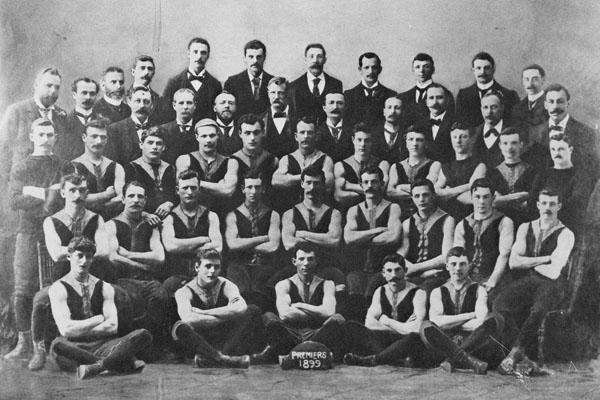 Left: Fitzroy 1899 Premiership team (photo courtesy: australianfootball.com)
Top image courtesy: Courier Mail