Brownlow Medal – Pearce Hanley's stocks continue to rise
Tuesday, September 23 2014 @ 04:57 pm ACST
Contributed by: Wesley Hull
Views: 1,770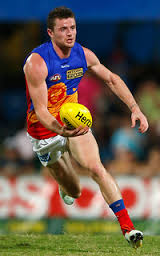 Measuring a player's value solely on their Brownlow Medal votes is a highly inaccurate science and not entirely fair on players. But they can be used as a form of comparison over time, and in this area Brisbane Lions player Pearce Hanley is moving along a career path which has similarities to Jim Stynes.
Pearce Hanley polled nine votes at last night's prestigious Brownlow Medal count. The award is given to the best and fairest player in the AFL based on the issuing of votes by the field umpires on a 3, 2, 1 basis for each game. Last night it was West Coast Eagles player, Matt Priddis, who won the award on 26 votes from Gary Ablett (22 votes) and Lance 'Buddy' Franklin (22 votes) in equal second place. Fremantle star Nat Fyfe polled 25 votes but was ineligible to win due to being suspended by the tribunal during the season.
Pearce was a long way back in the field, but he has now polled 21 votes in his career, all over the past three seasons.
His rise has seen an increase each year since 2012 (4 votes), 2013 (8 votes) and 2014 (9 votes). Hanley started in 2008 with a game in the final round and was added to the Brisbane Lion's senior list at the end of the 2009 season. After a couple more years learning the game, Hanley, originally from a Gaelic Football background as a player for Mayo in Ireland, is now on an upward surge.
Irish legend, Jim Stynes, polled a total of 105 Brownlow votes from 1987 to 1998, peaking with winning the medal in 1991 with 25 votes. Interestingly, Stynes also started from humble beginnings polling 19 votes over his first four seasons before his famous win in 1991. Stynes continued to poll votes in every season until his retirement in 1998, but his highest polling season after his win was 15 votes in 1995.
Pearce Hanley is still just 25 years old and may be looking at another five to seven seasons as a player. Even if he were to poll an average of ten votes per season, he might accumulate another 50 to 70 votes, and that is being highly optimistic. He is very unlikely to ever reach Jim Stynes' total. But that isn't really the point. Hanley's ability to accumulate votes, and more each year, suggest that he might, statistically, become the best Irish player in the AFL since Jim Stynes.
It will be interesting to watch his progress, and there is the Jim Stynes comparison to add interest. This article is not suggesting Hanley is as good a player as Stynes, but it is illustrating Hanley's rise as a player and potential to go much further.
For the time being it is enough to simply enjoy watching his skills as he goes from Irish AFL Rookie to a genuine club leader at the Brisbane Lions.
Footnote: Jim Stynes has been honoured with two structures in 2014. The Jim Stynes Bridge was opened at Melbourne's Docklands in June, and early in September a bronze statue of the great Irish and Melbourne Demon's player was unveiled as part of the Tattersall's Parade Of Champions surrounding the MCG. The statues include Australian Cricketers including Sir Donald Bradman and Dennis Lillee, athletes Betty Cuthbert and Shirley Strickland and AFL legends including Ron Barassi and Leigh Matthews.
Photos courtesy of -
http://afl.com.au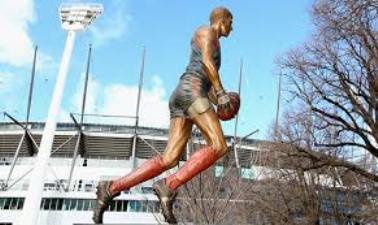 Left: The new Jim Stynes bronze statue at the MCG.