IC14 Vignettes – Hao [Howard] Zhang (China Dragons)
Wednesday, September 10 2014 @ 09:26 am ACST
Contributed by: Wesley Hull
Views: 1,713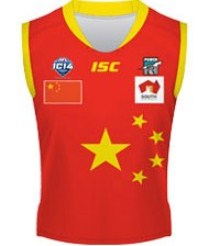 In this final instalment of the International Cup vignette series – one player interviewed per team of the 25 teams at the event – we chat with Hao Zhang, legendary player and team manager of the China Dragons. We look at his Australian Rules football journey and his take on the scene in China.
"I have played footy for seven years. I started to play footy on 2007. One AFL promotion officer went to my school and attracted us to play footy and then I begin to play footy. This is my third time playing at the International Cup."
"I am organizing the local players join this sport in South China right now. We join the SCAFL which includes Hong Kong , Macau and Guang Dong players. Also we have another local league called GDAFL which include GuangZhou, HuiZhou and DongGuan. There are about 100 players. Our team still have a long way to travel. I hope I can help the China team to be better in the future. I also hope I can help AFL to find some potential players in China." "I suggest that the AFL can use IC11 method to have the seeding round game. It is very difficult for the development team to play against the strong team. I hope more clubs can build more cooperation with China player. Maybe the clubs can choose some potential players to go to Australia for training and study.
Zhang and his team can be proud of their efforts to not only grow the game in China, but to take to the fields of battle at the International Cup and win against Finland as well as a narrow defeat to Japan. We wish them the best of luck for the future.