IC14 Vignettes – Timothy Lindgren (Sweden Elks)
Wednesday, September 10 2014 @ 08:45 am ACST
Contributed by: Wesley Hull
Views: 1,815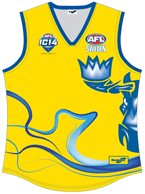 On purely a win/loss ratio, the Sweden team at this year's IC14 came out in front with three wins from five starts. On that basis, the Swedes can be justifiably proud of their standing – going down heavily in two games off set by wins against Finland, Indonesia and China. The performance also highlighted some of the new breed of Swedish players, including Timothy Lindgren.
Timothy is a newcomer to the international Australian Rules scene. A product of the Port Malmö Maulers, the 17 year old represents an investment in the footy future in Sweden. Having said that, Timothy has been playing the game for 6 years, so international selection is reward for that commitment. Timothy discovered the game at such an early age due to his teacher also being the national Australian Rules coach, opening up that pathway early in his school years.
At just 176 centimetres, Timothy plays as a half-forward. He is a Port Adelaide fan and lists his favourite player as Chad Wingard from the Power. His overall sporting idol, however, is Michael Jordan. When asked which is his favourite kick for snapping goals, Timothy opts for the "banana" kick over the "check-side".
Timothy says his favourite footy moment, other than his recent IC14 campaign, was being named best player afield in his very first senior match. He offers his most embarrassing moment in footy as the time he got lifted up and then smashed into the ground during an exhibition match against an England team.
Always confident in his and the team's ability, Timothy predicted a win for the Sweden Elks to take out the International Cup in the men's tournament, whilst choosing the USA team in the women's.
We wish Timothy and all of the Sweden Elks team all the best in their footballing futures, and will watch their progress with interest – particularly Timothy who is young enough to be at the next 3-4 International Cup events.