IC14 Vignettes – Siteri Tadrau (Fiji Vonu)
Tuesday, September 09 2014 @ 06:04 pm ACST
Contributed by: Wesley Hull
Views: 2,354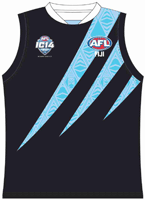 The Fiji Vonu players at this year's IC14 can all be proud of their place in history as representatives of the first Fijian women's national team at an International Cup. But if at all possible, Siteri Tadrau might be even more proud, being the first woman to captain that national team. Siteri shares some of her experiences with us in this interview.
"[I found Australian Rules football because] my sister informed me that her classmate who is a training personnel for AFL is looking for interested women to train for footy. Since I am a sporty person who started playing Netball since I was a kid and very much interested in keeping myself fit I decided to check it out, joined AFL training in August 2013, and the first day of learning how to handball, kick and mark I instantly fell in love with the game."
"I started as I mentioned above in August 2013, and I have played this sport for 1 year 2 months till today. Since the sport is not so popular in Fiji before the IC14, I joined the boy's team known as the Suva Lions and played a bit to keep my knowledge and physicality intact and then later on made the nine per side girl's team and joined team Golden and from there I was chosen for the Fiji Vonu Tribe women's team to take part for the IC14." "This was my first ever International Cup."
"The game is becoming much more exposed now since 2011. Here in Fiji in the coming years I assume it will become popular."
"I want to play the game as long as I could bear the physicality and the challenging side of it. But at the same time I ask that if we here in Fiji can be provided and given a proper coach and training instructor who have played this game all their life and could give his/her time in leading us in a proper way to prepare us physically and mentally for AFL. Because for me AFL is to do more with how you read and master the movement and the game in the field when you are under a lot of pressure from your opposition."
The next question for Siteri was to predict the tournament winners. "Since I've created great memories with the Canadian women's team I gave them all my trust and hope that they win and for the men's my bet is on PNG."
"I love AFL - every bit of it - and since I learnt that there is a world team created after every tournament my personal aim is to be one of the women in the next World team in the IC17 and in order to achieve that my advice is to keep playing the game whenever I have time and double my fitness level and knowledge of the game."
Many thanks, Siteri and we at World Footy News congratulate you and the Vonu team on your efforts and hope your future goals will come true.