AFL Solomon Islands bitter sweet Big Meat Pie weekend – vale Graeme Wilson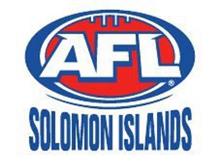 While this weekend sees the annual 'Big Meat Pie' footy carnival – the event will be tinged with sadness at the news of the passing of former Regional Assistance Mission to the Solomon Islands (RAMSI) Special Coordinator Graeme Wilson.
Graeme Wilson was born in 1953 (December 15) and played 14 VFL Games for South Melbourne across 1974-76. His calling outside of and post football saw him become a 'career diplomat' – includig landing in the Solomon Islands where the 2006 elections had seen parts of the capital city, Honiara, burnt to the ground. Head of the RAMSI mission from Jan 2009 he oversaw the successful conduct of the 2010 local elections. However he still loved his footy and was helping coach Auskick programs (now adapted as SolKick) – and in 2010 he oversaw his Solomon Sharks making their way to Tonga for their international debut at the 2010 Oceania Under 16s tournament. Wilson had seen a benefit in using the Auskick and AFL programs to help build a sense of 'nation'. We reported on his finishing up in the role back in 2011.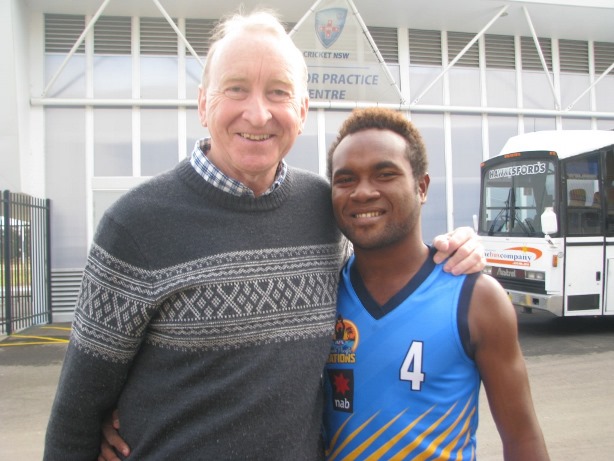 (Above) Graeme Wilson and Solomons 2011 South Pacific representative Anthony Joel at Blacktown - 2011.
Subsequently he found himself in South Africa as Australia's High Commissioner and it is there, in Pretoria, that he passed on Tuesday after a short illness. As South African Presdient Jacob Zuma stated "High Commissioner Wilson was a remarkable person, a true gentleman and ambassador for his country." I only communicated with him over a brief period but can reiterate that he was certainly a gentleman and massively proud of his Solomon Sharks - condolences to the Wilson family.
And so – tomorrow – Saturday September 6th sees the big annual match of the 'Nationals' vs the 'Barbarians' at King George VI School. A big day including live music, bbq and drinks – footy all afternoon and more. Last year the Nationals won comfortably on the scoreboard (80 to 19)