Mozzie's new look allows them to wear their pride
Wednesday, August 27 2014 @ 10:10 pm ACST
Contributed by: Troy Thompson
Views: 1,156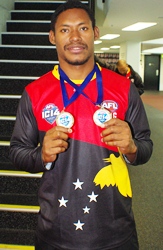 You couldn't help but notice the great AFLPNG jumpers when you saw them at IC14 - thanks to David Lake coach of the PNG Mosquitoes for giving us some background to the new design in the following submission.
Papua New Guinea launched a whole new look for their country at IC14 in Melbourne in August this year.
Earlier this year they met with Tribal Sport Design Director Sam Lake to establish a new look that would display all things that make PNG countrymen stand proud and tall.
After displaying a similar look for an extended period they made a decision to fast track into a modern new look that took in the 'bird of paradise' and southern cross stars off their national flag. it depicts the Southern Cross and a Raggiana bird of paradise in similar positions to the national flag.
The flag has been the country's national look since 1971 when a 15 year old schoolgirl Susan Huhume won a national competition for a new flag design . Red and black have long been traditional colors of many Papua New Guinean tribes. Black-white-red was the color of the German Empire's flag, which had colonised New Guinea prior to 1918. The bird of paradise is also found on the national coat-of-arms.
One thing we all know about the Papua New Guineans is the fierce pride they display for their country and all it stands for. When they arrived at the IC14 in their nice new bright shiny kit they were once again be formidable opposition for all, setting the benchmark for competitiveness and skill with all their country's pride. Needless to say they are now back at the top of the table as the world's no.1 outside Australia. Go PNG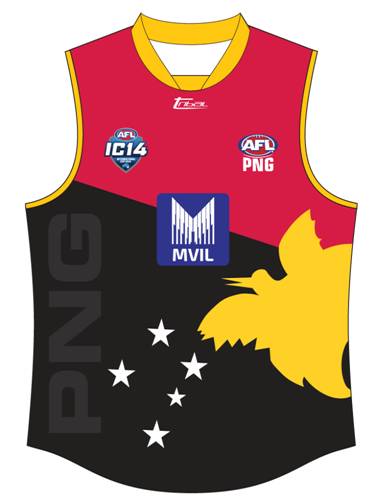 Disclosure: Tribal Sport is a sponsor of the worldfootynews.com website.