Une grande victoire pour mettre fin à la Coupe Internationale
Friday, August 22 2014 @ 10:35 pm ACST
Contributed by: Troy Thompson
Views: 1,007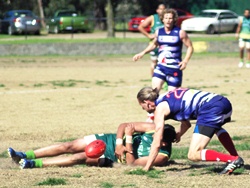 France notched their second win for the tournament with a 74 point smashing of Pakistan on McAlister oval on a bright sunny spring-like afternoon.
There wasn't a great deal of spring in the first quarter as both teams felt each other out. Pakistan started positively and had good movement around the packs. The first goal of the match came from the youngest man in the team as Simon Mondin kicked truly.
Hussain roved the pack nicely to get Pakistan on the board and the sides looked to be matched up pretty evenly. The second French goal for the quarter was a classy effort by the French captain Patacq had a bounce on the run and slotted it home.
The evenness soon dissipated as France stepped it up and regularly stepped around Pakistan. Goals rained to the French who passed the ball around well. Depondt kicked on from the pocket, Picard kicked a long goal from 50m out, Tiefenbach punted one through from the goal square, L'Hotellier (nicknamed Hilton) made the most of his set shot and Tiefenbach finished the quarter with a second goal. Shaheens ruckman (#25 - unlisted), Hussain and Siddique battled had for Pakistan who had a scoreless quarter.
Pakistan dropped number back to clog up the French forward line and the French kicking was a little wasteful in the third quarter but equally the Shaheens such as did not use the ball well when running
it out and repeatedly kicked the ball up to a contest that was dominated by the French wall. Qureshi and Medhi tried to link up with team mates but the French pressure undid their good work.
Vidal, Rosal and Mondin all kicked goals for Les Coqs as they took an unassailable 60 point lead into three quarter time.
Another three goals were added to the French tally in the last with Tiefenbach's two goals and one from Martinez. The Shaheens perseverance finally paid a small dividend when Ovais Rehman kicked his country's final goal of the tournament. But it was too little too late as France ran out winners by 74 points.
This Pakistan team have put their country on the footy map but this first iteration is an Australian based squad. We hope that between now and IC17 that many of these players are inspired when they return home to link up with the current footy efforts in Pakistan and develop new teams of their own so they can bring a competitive squad back for the next International Cup.
French footy looks to be developing well and regular footy and development of further clubs in France should see them continue on their upward trajectory and see them as one of the top teams behind Ireland and Great Britain in Europe in the years to come.
Pakistan: 1.2 1.2 1.2 2.2 (14)
France: 2.2 7.4 10.8 13.10 (88)
Goals
Pakistan: Hussein, Rehman
France: Tiefenbach 3, Mondin 2, Patacq , Depondt, Picard,, L'Hotellier, Martinez, Vidal, Rosado
Best
Pakistan: Qureshi, Mehdi, Quereshi, Khan, Malik, Mashwani
France: Patacq, Picard, Schieber, Alliot-Marty, Coste, Denerf