Mosquitoes IC14 Champions get Grand Final revenge
Saturday, August 23 2014 @ 11:50 pm ACST
Contributed by: Troy Thompson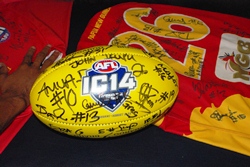 Player of the tournament Mick Finn started off the 2014 International Cup Grand Final where he left off in 2011's Grand Final. In a stellar display he kicked all three goals for Ireland. Early in the quarter Finn almost had his first but the kick dropped short and Muiris Bartley couldn't pick it up as the ball was rushed for a behind. PNG had an early chance but a quick kick from Ema Wartova was cleared off line.
Padraig Lucey kicked a point in his first score for the match after marking 20m out. Mick Finn then kicked three in a row from a free kick, a leading mark and a paid tackle.
PNG pegged back a bit of the lead after a rushed behind to PNG after a fresh air kick missed the target and Brendon Beno marked and goaled from the kick after siren from 50m out.
At quarter time it was a 12 point lead to Ireland.
In a reversal of first quarter the Mosquitos had all the possession but failed to capitalise. When the Mozzies play with purpose they are very dangerous but at times try to do too much which comes undone. PNG failed to make the most of their opportunities with two shots spaying wide, a rushed behind and a couple of balls cleared off the line. Ireland have mounted a number of good rebound attacks which failed to result in a major due to superb defending efforts. Ikupu started to dominate around the ball using Simon and Peni to set up advances.
Beno looked the most dangerous forward for PNG with Pirika playing second fiddle. But it was Jason Soong who kicked PNG's only goal for the quarter snapping truly on his left after roving from the boundary side of the pack.
PNG players kicking for goals appeared to be fooled by the 50m arc distance as opposed to the 40m arcs at Royal Park seeing kicks for goal dropping short. The ledger appears more balanced at half time although Ireland holding that 5 point edge.
Ireland looked like asserting authority early in the second half as the big men in Lucey and Finn dominated with simple lead mark footy into their forward line. But they failed to capitalise with kicks going wide. Eventually a mark in the pocket was taken by O'Regan who dished off the quick hands to Sean-Paul Henry for a running goal.
Allan Farrell in the last line of defence for Ireland at the other end was reading the flight of the ball very well as PNG looked to press on the turnovers taking multiple marks for the quarter. Mick Finn was marking and tackling and looking like the match winner we know he is. But as the quarter wore on though PNG's teamwork improved and they tried to manufacture breaks throught the corridor which only fell down once the ball was close to goal. Eventually Agita snagged one from Ikupu's tap down in the pocket for a goal. PNG had a few more chances including Wartova's kick after the siren. A narrowing 3 point lead to Ireland at three quarter time.
To start the final quarter PNG pushed forward again but Farrell continued to deny them. But the next entry saw Wayne Reilly fend off to Gavuri's face and he received the free kick. His pass to Brendon Beno in pocket for goal was marked and goalled. Mick Finn stepped up again for Ireland, as he marked the kick to the pack from centre and goalled from 50m out in front.
The ball went from end to end with Brendon Beno's snap going out of bounds on the full, Padraig Lucey's kick going wide for Ireland and Ema Wartovo also kicking wide. Sean-Paul Henry almost pulled off a great intercept that would have left them open to score but was shut down.
Breaking the deadlock was Ikupu who took a flying mark from a nice kick into the hotspot fromLaurie Logo. He went back and kicked the goal from 12m out.
Gideon Simon then added one from a free kick 20m out from goal straight in front to give PNG a 9 point buffer with the clock running down.
Ireland had one last gasp left in them when they needed two. O'Regan kicked a quick pass from the wing to Lucey and he kicked Ireland's final goal with 30 seconds of time left on the clock and no time on to help them.
In the final contest the ball dropped in the middle of the pack and a quick kick out to the PNG 50m arc the ball fell into space as the siren sounded. PNG had battled long through the match to peg back the lead given up very early on. In the end they had more of the running as Ireland slowed. A fitting victory seeing PNG home by just three points to avenge their 2011 Grand Final loss to Ireland. A crowd or around 5000 (est.) watched the Mosquitoes lift the International Cup and John Ikupu was named man of the match.
PNG 6.9 (45) defeat Ireland 6.6 (42)
Goals
PNG Beno 2, Ikupu, Simon, Soong, Agita
Finn 4, Henry, Lucey
Best
PNG: Ikupu, Beno, Simon, Gavuri, Peni
Ireland: Finn, Farrell, McElhone, O'Reagan, Bartley.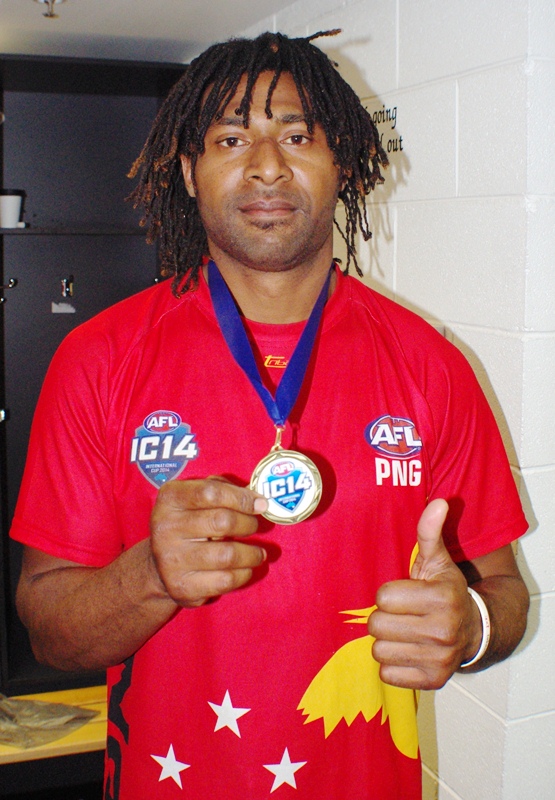 Best on ground John Ikupu.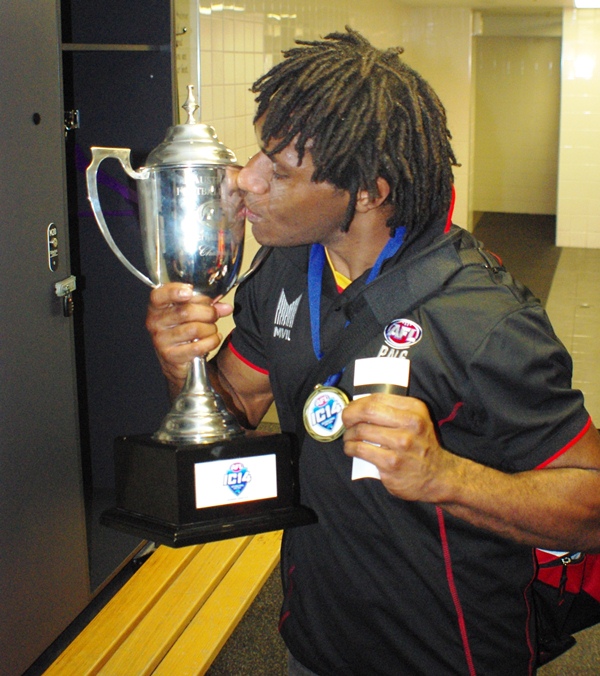 Gideon Simon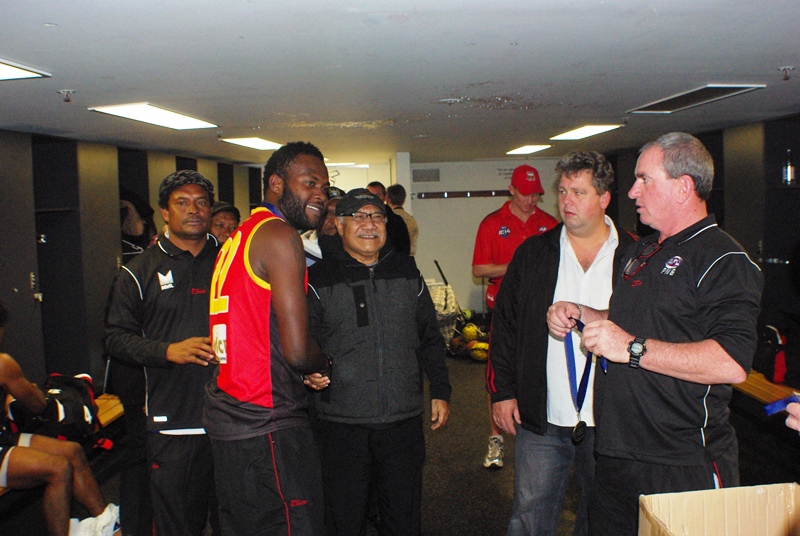 Medal presentation.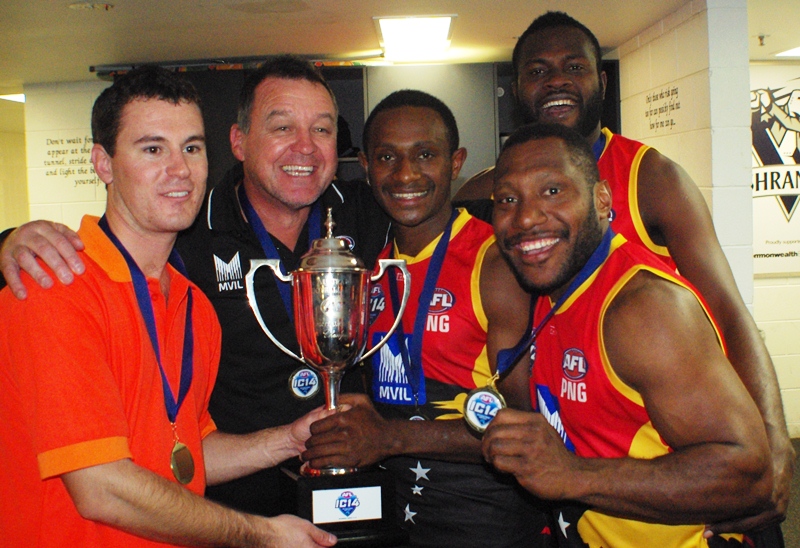 Winners are grinners.
---
World Footy News
http://www.worldfootynews.com/article.php/2014082318450749