Midnight Suns eclipsed by USA Freedom
Saturday, August 23 2014 @ 07:00 pm ACST
Contributed by: Harley Vague
Views: 1,231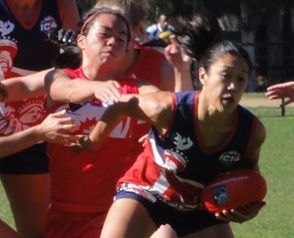 Friday August 22

The USA were out to prove that they belonged in the big league and not with the Canada "B" team.

The Freedom had three goals on the board before the Suns regrouped. They were receiving great drive from #1 Alex Blatnick and a number of others allowing #27 Lindsey Kastanek to run into an open goal. She was unlucky not  to follow up with another but took a pass and goaled from 20m later.

At the break the Canadians were concerned with combating the Freedom's height advantage but the Freedom had more just that. They had a balanced side, teamwork and a plan. Some better passages of play  went unrewarded but the constant pressure was keeping the scoreboard ticking over with goals.

The third quarter was the Suns best effort and they did well to contain the Freedom to just goals. The Suns were better at ground level with efforts like that of Rennee Tong.

But that was as long as it lasted. The Freedom stepped up again in the last quarter. #14 Kim Hemenway  accepted foot passes to kick two goals and marked well. #1 Alex Blatnick emphasized how good she is when once she roved pack and kick a goal from 25m truly despite being tackled and later roved a ball around a pack, execute a 1~2 then drilled a goal. It might have been worse without  #7 Justine Stevens defensive efforts for the Suns.

The US women showed that although Canada's women overall have now taken a sizeable lead, it may not be an unreachable gap as the best US players clearly have Canada's next tier covered.  The US take home 3rd spot and the Midnight Suns an admirable 4th, showing hwo quickly Canadian footy has developed depth in the women's game.
(3rd v 4th)
USA Freedom: 17.15 (117)
Canada Midnight Suns: 0.0 (0)
Goals
USA Freedom: Hemenway 5, Riehl 5, Kastanek 3, Blatnick 2, Brower, Hoha
Canada Midnight Suns:
Best
USA Freedom: Blatnick, Stein, Lee, Hemenway, Riehl, Kastanek
Canada Midnight Suns: Stevens, Fernandez, Kinch, Tateson, Tong, Dalla Rosa