GIANTS of China?
Saturday, August 23 2014 @ 12:40 am ACST
Contributed by: Brett Northey
Views: 1,260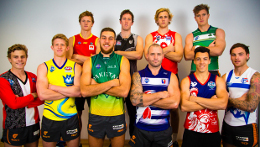 The GWS GIANTS are exploring playing an AFL match in China for premiership point, i.e. a regular season match.  To promote their quest their players donned International Cup jumpers.
GIANTS CEO David Matthews told Friday's Daily Telegraph the club were keen to look at new avenues to promote the game overseas.

"We're pretty ambitious about trying to look for opportunities," Matthews said. "What the AFL has shown in New Zealand is to play a genuine home-and-away game for four points is the best way to promote the game.

"It seems such a logical step to play a game in China and we'd certainly be putting our hands up if it's possible.

"It may be the starting point to have an exhibition game, with a match for points down the track. But we're very keen on the idea, very keen."

Matthews was with the AFL when they organised an exhibition game between Melbourne and the Brisbane Lions at Jiangwan Stadium in Shanghai in 2010.  He was General Manager of Game Development in an era of expansion of AFL involvement in the game at grass roots internationally as well.