IC14 Vignettes – Amina Huni (Tonga Storm)
Thursday, August 21 2014 @ 10:54 pm ACST
Contributed by: Wesley Hull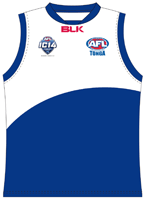 At just 165 centimetres in height, Amina Humi might go close to one of the smallest full backs going around. Hard to image her up against modern day giants like Daniher (201cm), Tippett (202cm) or even Cloke (196cm). But in her own field, harassing opposition full forwards, she is a Tongan giant.

Our interview took a different direction. As a Hawthorn supporter, she still lists her footy idol as Lance Franklin. Amina says that her career highlight to date has been this current International Cup.

At just 21 years of age, Amina, who plays for the Nukalofa team back in Tonga, should look forward to a long career representing her country.
Amina believes that PNG will take home the men's title at this year's event and that the women from the Canada Northern Lights will win the women's competition.

Turning to non-football matters, Amina is a fan of The Simpsons, and prefers Star Wars to Star Trek. She is also a fan of beef & vegetable soup and her sporting idol is All-Black Dan Carter.

Her funniest football moments are the times she sees her facial expressions in photos of her being tackled. Amina also chooses the check-side kick over the banana.

She believes that her team mate, Nelma Ongolea, is the player most likely to be the next Queen of Tonga, but labels another team mate, Malia Hufanga as the stingiest "as she never buys anything". Amina labels herself as the player that spends the most time in front of the mirror.

We wish Amina and the girls at the Tonga Storm all the best for the rest of their time here in Melbourne for the international Cup.

Comments (0)
---
World Footy News
http://www.worldfootynews.com/article.php/20140821225413370