IC14 Vignettes – Jeff Talmadge (USA Revolution)
Thursday, August 21 2014 @ 10:05 pm ACST
Contributed by: Wesley Hull
Views: 1,286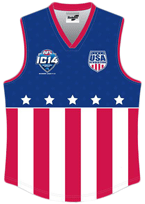 The USA Revolution has had a good run so far in the International Cup. On a win/loss ratio, their 3 wins from four starts has been a solid return. Jeff Talmadge is a part of the squad, and has shared some of his insights with us.
"I started playing footy in April 2013 so close to a year and a half. It's been quite an adventure in such a short period of time. I was encouraged to come and check out the club in my home town, Austin, Texas, by an Aussie friend of mine from Adelaide. After my first game, I was absolutely hooked."
"The game is continuing to grow through stories similar to mine. Despite being around for over a decade, my club back home, the Austin Crows, has grown exponentially in the last few years as we build continuity year-to-year and a strong club culture. Once you give someone a taste of footy, there's almost never turning back, so the key is to get them in a jumper and throw them into the action."
"Melbourne has been an incredible host city - one couldn't ask for more. We were fortunate enough as well to be introduced to the Montrose Football Club who graciously hosted our team for a Thursday night function in addition to our game against New Zealand. Although the match itself didn't provide us with the result we were looking for, it was by far the experience I'll cherish most when I'm back in the US."
"If I had to guess, I think this is PNG's year to take the cup for the men's. As for the women, I think Ireland will be a tough team to beat. However, you never know."
"One thing I've learned about Australian culture is the love for travel. If anyone is passing through Austin, Texas while in the states, please don't hesitate to come out for a training session with us. Whether you're there for a week, month, or year, we'd be happy to have you. Look us up on Facebook - Austin Crows."
Good luck to Jeff and the USA Revolution for the remainder of the International Cup.