Freedom's finishers in fine form over Fiji
Thursday, August 21 2014 @ 04:29 pm ACST
Contributed by: Troy Thompson
Views: 1,177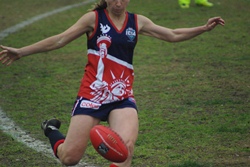 This women's match between the US and Fiji followed on from the men's match the previous afternoon where the two countries clashed in what turned out to be very heated.
Fortunately while this match saw plenty of physical clashes, but things never looked like escalating to anything more than "in the contest" aggression.
Andrea Casillas for the USA kicked the first goal of the match in the first few minutes. From here Fiji managed to lock down the ball around the ground with the Fiji captain Siteri Tadrau playing well on the defensive side of the many packs that formed. Matanisigadrau and Tuilevuka good for Fiji. The US added a second goal late in the quarter and Kastenak could have added a third but her kick went wide after a good leading mark.
The highlight of the quarter for me was US onballer Blatnick's blind turn around a Fiji defender and then spotting up the CHF with a crisp pass. Fiji managed just the one behind for the quarter and the US lead by two goals at quarter time.
The US started well again in the second with a goal to Riehl after a diving mark twenty metres straight out in front and the floater kick went through the big sticks. It would be Kim Hemenway's quarter though as she roved a loose ball and her high floating kick bounced through for the first of her three goals for the term. Getting in on the act Edwards-Rohner goalled on the run and then set up Kastanek for her first. Matakibau and Delai for Fiji kept busy trying to stem the tide.
At half time the game was already looking over with the US taking a 49 point lead into the long break. Unfortunately though for the US Johnson was carried off on the stretcher with possible broken ankle after the half time siren.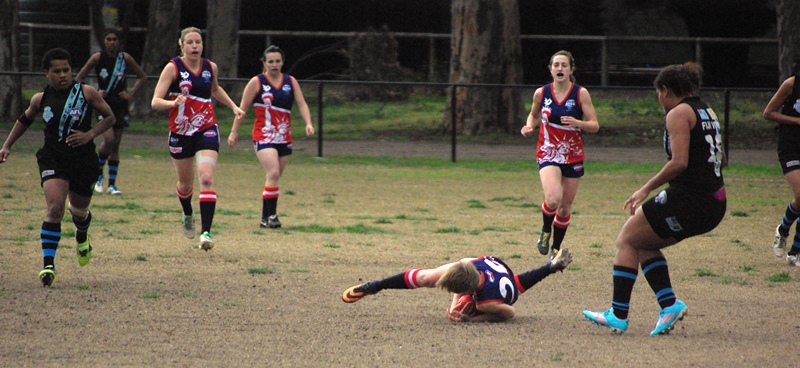 In the third quarter the US continued to dominate but Fiji's getting back in numbers served to clog up the US forward line. After a behind from Kastanek, the Fiji full back was tackled by Riehl for the US after she played on from the kick-out. It was impressive given the size mismatch, and she was rewarded with the goal from the resulting free kick. Cathy Bale continued to be one of Fiji's better players. Sherma added a second goal for the Freedom swooped on a loose ball, threaded between three defenders and added a second goal
¾ time 10.5 65 lead 0.1 1
In the final quarter the Vonu girls definitely picked themselves up for a last all-out assault to try to kick a goal in the match. The pushed hard contest to contest and sent the ball inside the 50 metre arc but the Freedom defence was staunch.
Having seen off this thrust the Freedom placed two cherries on top with goals to Estrada and Kastanek, finally running out winners by 78 points.
USA Freedom: 2.1 6.1 8.4 12.7 (79)
Fiji: 0.1 0.1 0.1 0.1 (1)
Goals
USA: Hemenway 4, Riehl 2, Kastanek 2, Hoha, Rohner, Sherman, Estrada
Fiji:
Best
USA: Riehl, Hemenway, Shelton, Stablien
Fiji: Matanisigadrau, Matakibau, Katonivere, Tuilomani, Ratuba, Narawa