IC14 Vignettes - Alexa Blatnick (USA Freedom)
Tuesday, August 19 2014 @ 06:25 pm ACST
Contributed by: Wesley Hull
Views: 1,492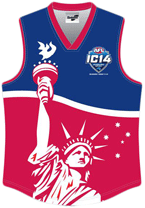 Running around the ovals of Royal Park is one Alexa Blatnick, proudly wearing the number 1 jersey for the USA Freedom. Whilst not the captain of the team, Alexa is still an integral part of the squad that is currently in Melbourne at the International Cup. Here she shares her Aussie Rules story.
"I was running around McKinley Park in Sacramento, California, on a Tuesday evening. I saw the Sacramento Footy club playing Ausball which is a co-ed tag league. I started playing that and then they coaxed me into trying the full contact version of the game."
"I started last August, so I've only been playing for a little over a year. I'm still a newbie! I am always learning and picking people's brains about the game. I play for my club team, the Sacramento Lady Suns back home."
In just a year, Alexa has gone from being introduced to a new game to representing her country here in Ausstralia at the IC14, which is an extraordinary performance. "This is my first International Cup, but hopefully not my last!"
"The women's game in the USA is pretty competitive. There are a lot of great athletes in the USAFL, but we are all still learning the game and are improving our skills every day. I didn't grow up playing AFL, so I've had to rely on the skills I learned from playing soccer to help me be successful."
"I would love to take my AFL career as far as I can. During our tour, I've met a lot of amazing female footballers and had the honour of training with a few women's football clubs."
"I'm not too certain on who will take the men's division, but from what I've heard, Ireland is always a tough opponent. For the women's side, you'll see Ireland and Canada Northern Lights in the Grand Final. It should be a great game of football."
"This has been a whirlwind of a first year for me. I received the Paul Roos Best and Fairest award for the women's division at my first USAFL National tournament alongside Jess Estrada from San Franciso. I tried out for the national team and was selected as part of the Freedom squad and I celebrated my "first year anniversary" of playing AFL by being in Australia. This truly is the best sport in the world, and I can't wait to see what the future holds."
A great little story, and we wish Alexa and the USA Freedom team the best of luck for the rest of the event.