IC14 Vignettes – Adam Coxsell (Great Britain Bulldogs)
Monday, August 18 2014 @ 10:27 pm ACST
Contributed by: Wesley Hull
Views: 983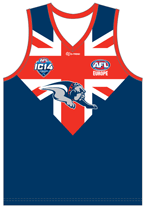 Having a little chat with Adam Coxsell from the Great Britain team, a small sense of disappointment comes across. But like all other players who have come to Australia for the International Cup, Adam can hold his head high, having the honour of representing his country.
"I found Aussie Rules through Great Britain Bulldogs captain Sean Walton. I lived with him for three years and he dragged me down to a training session to make up numbers and I have not looked back since."
"From the first training session I was hooked, mainly due to the enthusiasm and support of our then coach Dave Veale. When he left to go back to Oz I ended up becoming president of Birmingham Bears. A lot of hard work and disappointment later I have eventually got my chance in the Great Britain team. I was initially selected as an emergency but someone pulled out so I got called up."
"We [the team] were hoping to break into the top four, but unfortunately the tournament hasn't gone to plan. We just haven't been able to cope with the Pacific Islanders athleticism. I think we are better than our current position suggests and I would love to have a go at one of the top four teams to prove it."
"Back in the UK, Aussie Rules is growing. There is a three tiered 18 per side league in London which is a very good standard. There are a lot of ex pat Aussies in London which helps the league and the British guys to develop skills. Outside of London the leagues are mainly nine per side. Due to the availability of players and pitches, we play on rugby pitches in the summer. In my league, Central and Northern League, there are eight teams who are mainly made up of British players, with some Aussies thrown in. The sport is growing and we are currently in the process of trying to gain Sport England status which would help us with funding and equipment."
So, who does Adam tip for the men's and women's competitions this year? "My money is on New Zealand for the men's and the Irish for the women's."
We wish Adam and the Great Britain Bulldogs team all the best for the remainder of the IC14 competition.