Fiji Vonu run over USA Liberty
Monday, August 18 2014 @ 08:50 pm ACST
Contributed by: Harley Vague
Views: 1,042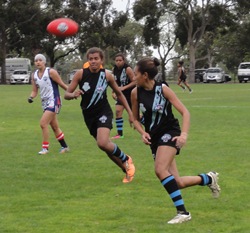 iMonday August 18 - 11.00
Both teams came into this game looking for a win, both with different styles of play only one winner.
The Liberty were taking this game seriously breaking into three coaching groups before the warm-ups whilst the Vonu were still adjusting to the cold.
The Liberty were immediately into attack through #17 Kaitlyn Mascher-Mace but the game soon developed into a scrappy affair with short kicks producing constant mauls.
However it was the Vonu who exhibited better teamwork and grafted the only goal for the quarter and threatened more, unable to convert possession to scoreboard pressure.
The second quarter commenced the same as the first but the Vonu had stepped up and running harder teaming together to get the ball forward for a brilliant goal snap.
It was coming easier now. Good teamwork and a free resulting in a second goal for the quarter. #10 Moapa Vakarau with a great run and weave was typical of the difference between
the two teams. Vonu's use of handball was another. In contrast the Liberty relied on individual performances.
The Liberty came out pumped after the break and slowed the Vonu's run but they still couldn't match Vonu's teamwork. The Vornu were quite comfortable now.
In fact they could be criticised for overusing handball when a kick might have added to the scoreboard as had occurred in the second quarter.
While the Vonu continued playing with confidence in the style that they knew, the Liberty found some teamwork. With the physical and height advantage the Liberty were able to challenge
but the Vonu were equal to the task.

Fiji: 1.0 5.2 7.3 7.5 (47)
USA Liberty: 0.0 0.0 0.0 0.1 (1)
Goal kickers
Fiji: Serevi 2, Matanisgadrau, Varanisesed, Nabaliarua, Vakasausia, Tuilevuka
USA Liberty:
Best players
Fiji: Matanisgadrau, Serevi, Vakasausia, Nabaliarua, Lawenbuka, Vakarau, Katonivere
USA Liberty: Georgiadis, Kwoka, Theisen, Even