IC14 Vignettes – Yossy Alberta Taehuttu (Indonesia Garudas)
Sunday, August 17 2014 @ 10:48 pm ACST
Contributed by: Wesley Hull
Views: 1,042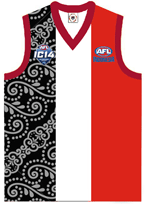 The Indonesia Garudas have made their debut at this year's International Cup, and as a result Yossy Alberta Taehutta etches his name in history as the inaugural Indonesian captain. He took a few moments to answer our questions.
"I discovered Australian Rules football from the AFL development program via the Jakarta Bintangs Australia Football Club. This is my first International Cup as it's the first time Indonesia has played in the event."
"I started playing Australian Rules footy in 2009. I have played for the Jakarta Bintangs and the Cilengsi tigers. I have travelled to Pattaya, Bangkok, to play in the AFL Asian championships and to Cambodia to play against the Cambodia Eagles."
Yossy was asked what is the game like in Indonesia? "It is a good game but different game. Not many people play, but it is fun. I would love to play at AFL level. I want to improve my skills and play for my country at the next International Cup."
Yossi has a very Oceania feel to his tips to win the event this year. "In the men's [it will be] Fiji and in the women's, Tonga."
As a final word, Yossy added "If the AFL could manage more support and helped grow football in Indonesia, it would be good. Then we can get more players and maybe have a chance to win the International Cup."
With confidence like that, maybe Yossy will one day be the first International Cup winning captain for Indonesia. A great dream to follow.