IC14 Vignettes – Alison Vorsatz (USA Liberty)
Sunday, August 17 2014 @ 10:13 pm ACST
Contributed by: Wesley Hull
Views: 1,231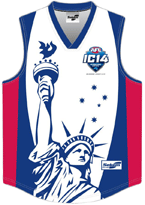 As Australian Rules football grows across the world it is inevitable that the game will benefit from players from other sports, coming over to try our game and bringing a whole new skill set to complement our game. An example of this is USA Liberty player, Alison Vorsatz.
"One of my friends and teammates in New York City and on the USA Team, Andrea Casillas, played in the first women's game at our National Tournament back in 2005. She fell in love with the game and started a team in Arizona with Christina Licata. Then they moved to New York and founded the New York Lady Pies in 2008."
" I have been an athlete my whole life and still play competitive sports a few nights a week, but I was looking for the opportunity to be a part of a serious team again, one that traveled and resembled the types of teams I played in when I played competitive basketball, volleyball and softball. When I moved to New York in 2012, Drea and Christina handed me a training schedule and said, "You're playing. You'll love it, trust us."
"I had never heard of the sport and all I knew is that they had a lot of injuries and bruises, so I was worried I would get my face broken, but they told me I would be fine. I ended up having 2 shoulder surgeries from footy instead, but they were right, I love it, my face is still intact, and I'm back for more footy!"
"I started in 2012, but was injured for all of 2013, so this is technically my 2nd year. I have only played for the New York Magpies, but I'm originally from San Francisco, and I also introduced this sport to some of my good friends there who now play for the San Francisco team and the USA. When I visit home, I train with the San Francisco Iron Maidens to get my footy fix in. That is one of the things I love about the footy community - no matter where you have come from, you are always welcome on the pitch."
"Yes, this is my first International Cup! And first time to Australia! I did play in the Parallel Cup against Canada in 2012, but this is unbelievable."
"The game is growing so fast. We have 13 cities with women playing and we are recruiting new women all of the time. Women love the game for the challenge, the intensity, the fitness, and the sense of camaraderie we have. For women in the USA, there aren't many opportunities to play sports after university at a competitive level, and there aren't many options to play a full contact sport. Footy has brought an amazing opportunity to the female athletes of the USA - it's given them a sport to challenge them and a game to belong to."
"In a big city like New York, it also gives you a family, and a way to make the city feel like home. Unlike the teams I play on for other sports, I've found with footy you don't just join a team, you join a community, and it is more than just something I do outside of work - it's become the biggest part of my life."
"I would like to play for as long as my body will allow it! I'll go as far with the game as it will let me - International Cups are just the beginning of what I know will come for women's footy. I dream of the opportunity for women to play this in a pro league one day...soon."
"Who will win? Men's and women's? Obviously I want to say USA for both of these questions! All of my other opinions will have to be kept secret."
"Footy has changed my life and been one of the best things that has ever happened to me. I've learned so much about myself and what I am capable of as an athlete and a person through playing this incredible game. Many of my closest friends in New York are my teammates, and I love being surrounded by women who are driven, fierce, competitive and passionate about this game and being an athlete and ambassador of it."
"I always love the game but playing in the International Cup is special beyond words. When they play our national anthem, every single time I have the biggest smile on my face while I sing it at the top of my lungs with tears in my eyes. Footy has given me the chance to represent my country. And there is no greater honor in this world than that."