IC14 Vignettes – Trent Depaune (Nauru Chiefs)
Saturday, August 16 2014 @ 01:19 pm ACST
Contributed by: Wesley Hull
Views: 1,040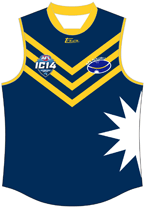 As one of the elder statesmen in the Nauru Chiefs team, Trent Depaune has the responsibility of leading the way for his team mates to follow. A brief chat with Trent gives an idea of his background in the game.
"Our great grandfathers came to school here in Melbourne, then they established the game of football in Nauru." "I've been playing since 13 years old. My team in Nauru is the Cats."
Trent has been a mainstay of the game back home in Nauru. "This will be my third International Cup and my third time as a captain."
Back home in Nauru the game is built around "speed and rough surfaces" which might just assist the team now playing on softer grassed fields. Rent also believes accuracy will be a key to their performances.
Who does he believe will win the men's and women's competitions? "Time will tell for both. May the best team win."
We wish the Nauru Chiefs, and Trent Depaune, all the very best for the remainder of the 2014 International Cup.